What is GDPR and How Does it Affect Authors?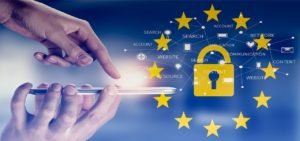 You may have heard of the new European Union law, GDPR (GENERAL DATA PROTECTION REGULATION), coming into effect May 25, 2018.
If not, you do need to pay attention if you have (or want) an email list communicating with your readers.
WHAT IS GDPR?
If you do have a mailing list for readers, chances are you have readers who live in the European Union. So you do need to pay attention to this data protection and privacy law. It will impact you.
GDPR will have an impact on data protection requirements globally.
From https://digitalguardian.com/blog/what-gdpr-general-data-protection-regulation-understanding-and-complying-gdpr-data-protection
Essentially, this law impacts all writers if they have email newsletter lists.
I asked my newsletter service provider, GetResponse:
I was wondering what GETRESPONSE is doing for The General Data Protection Regulation (GDPR).
To be in line with the new General Data Protection Regulation which shall come into effect on May 25, 2018, do I need to confirm an opt-in with my subscribers again?
They replied:
Essentially what you must do to comply is: Proof. Provide trackable, recorded proof that everyone on your existing email list has opted in.
If you have this proof already, you do not need to do anything, if you do not — I recommend a reconfirmation campaign that would collect the needed details.
WHY IT MATTERS
Unlike the previous European Union law on data protection, this new law has teeth: financial penalties.
"GDPR has increased penalties for non-compliance."
(From digitalguardian.com)
NOW WHAT?
STEPS YOU CAN TAKE TO BE COMPLIANT OF THIS NEW LAW
1. Make sure your email service provider is compliant. Feel free to email them the question I asked mine.
2. Don't add people to your list without their permission.
3. Make it easy for people to unsubscribe.
More on best practices to comply with this law: http://www.convergenceasia.com/story/best-practices-gdpr-compliance. Written for corporations, but may be useful to authors too.
If you don't yet have an email list to connect with your readers, here's a resource, on how "Unpublished Authors Can Promote too!"
Updated: More resources on GDPR and Authors
Podcast: "GDPR: EVERYTHING YOU NEED TO KNOW + HOW TO ENSURE YOU'RE COMPLIANT"
Article from Society of Authors:"New laws on data protection – what do they mean for you?"
Article from Wired: "EUROPE'S NEW PRIVACY LAW WILL CHANGE THE WEB, AND MORE"
Article from author, B. L. Berry: "WHAT GDPR MEANS FOR AUTHORS AND BLOGGERS"
More Book Marketing Resources from WFZ
"How Authors Can Market And Promote Themselves Online by Victoria Greene" https://writersfunzone.com/blog/2017/08/24/authors-can-market-promote-online-victoria-greene/
"Hiring a Virtual Assistant Part 2 by Chloe Adler" https://writersfunzone.com/blog/2017/12/22/hiring-a-va-part-2-by-chloe-adler/
"The What, Why, How of Book Launches and Campaigns" https://writersfunzone.com/blog/2016/05/02/book-launches-campaigns/
***
ABOUT BETH BARANY
Hi! I'm Beth Barany, an award-winning novelist, master neurolinguistic programming practitioner, and certified creativity coach for writers.
Through my courses, programs, workshops and consultations, I specialize in helping writers experience clarity, so they can write, revise, and proudly publish their novels to the delight of their readers.
All my courses are packed with useful hands-on information that you can implement right away. I run an online school for fiction writers here and a 12-month group coaching program to help novelists get published here. I also offer consultations for writers here.
Get started with a free mini-course on your Writing Discovery here.
I do live workshops and presentations too. Contact me if you'd like me to speak to your group. Many of my past events are listed here.