Hook Your Reader Contest for Novelists (May 2015)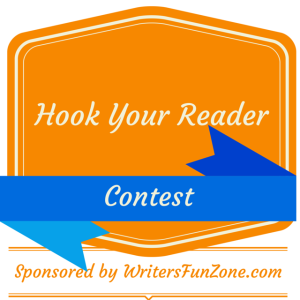 Hello Fiction Writer!
If you've started talking about your novel at all, whether your manuscript isn't finished yet or you're an already published author, then you may have experienced the struggle of how to hook your reader.
Do you friends' eye glaze over when you start talking about your book?
Or does the opposite happening? People get really excited when they hear your pitch?!
Congratulations either way!
You're in the mix, working to hook your reader.
What is a hook?
Yes, it is what you catch fish with.
In marketing, it's how you draw people in.
The FIRST rule of sales is "generate curiosity," and in my opinion that is what good marketing is designed to do.
You don't need to say it all, nor should you.
You want to say just enough to get them to metaphorically or physically step closer to you.
How do you do this?
You use a hook, or a pitch.
I thought it would be fun to start running contests here at Writer's Fun Zone and focus on hooking your reader.
So here's how this first contest will work. (And if we get lots of interest and participation, I'll run them monthly.)
RULES
Craft your pitch for your published or unpublished novel and post it in the comments below.
Use this article Ezra wrote as a guide, "How to Write the Perfect Pitch to Sell Your Novel In Person." It has examples and step-by-step guidelines on to craft your perfect pitch.
You can post any one of the six pitches, but you can only enter one pitch per book.
Post your pitch in the comments. Emailed pitches don't count. Nor does delivery by any other way.
You can enter more than once, but for separate books.
This contest is open to all fiction writers, published, unpublished, with a completed manuscript, or incomplete manuscript, at any stage of the writing process, even unwritten.
Contest opens: May 1, 2015 (as soon as I hit publish on this post)
Contest ends: May 31, 9pm Pacific
Winner: Winner is chosen by my sole discretion (with Ezra's help), but you can upvote yours and your friends in the comments.
PRIZES
Yes, there are prizes, because what fun would a contest be without prizes!
1st Place Winner: You win a one-hour consultation with me, Beth Barany, writing and publishing coach for novelist AND a 30-minute book cover discussion or evaluation with Ezra Barany.
2nd Place Winner: You win a one-hour consultation with me, Beth Barany, writing and publishing coach for novelist OR a 30-minute book cover discussion or evaluation with Ezra Barany. Your choice!
3rd Place Winner: A copy of Beth's Twitter for Authors: Social Media Marketing Strategies for Shy Writers
---
So, good luck! And please share with your friends! Ezra and I will cheering you on!
More book marketing resources here.
---
WHO WE ARE AND WHY YOU MAY CARE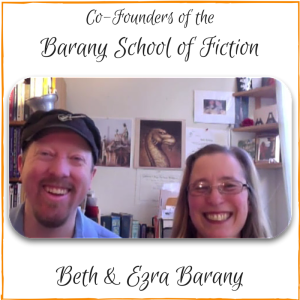 Beth and Ezra Barany are award-winning, best-selling novelists, who have worked with over 100 authors to help them get their books written and published.
Happily married for over 15 years, we're passionate about writing, story telling, and guiding authors to achieve your dreams.
Together we have written and published 18 books, plus 3 audio books. Together and separately, we have taught thousands of students over the years, in both the public and private sector, including overseas in Paris, France. We both teach (and Beth's case, coach) and working on writing and publishing our novels.
We run classes at the Barany School of Fiction. Check out our catalog here.
And more specifically…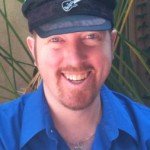 Book marketing mentor, Ezra Barany is the author of the award-winning bestseller, The Torah Codes. Contact Ezra today to begin the conversation on how he can help you design your book cover or pitch via Facebook, Twitter, or contact him through this blog, or email: EZRA at THETORAHCODES dot COM.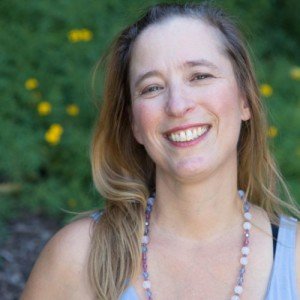 Beth Barany helps authors get their books completed and out into the world, into the hands of their readers. Creativity Coach for Writers and Master NLP Master Practitioner, Beth Barany has been there and knows how hard it can be to take your idea and turn it into a real book, that people will actually be interested, and even yearning, to read.
She walks the talk, as her clients like to say. She is the author of the 2012 award-winning young adult fantasy novel Henrietta The Dragon Slayer, as well as the author of the bestselling nonfiction books for authors and aspiring authors.
Ready to finish your book but not sure how?
Beth gives away 10 spots per month for a 60-75 minute Complimentary Discovery Session.
Book your appointment!
First Come First Serve!
---
If you'd like hands-on support to prepare your novel for Nanowrimo (this July or October) with your peers and with experienced instructors — Beth and Ezra Barany, then join us for our course starting June 1st: 30-Day Writing Challenge to Preparing Your Novel.
All the details for the course here.
Or if you just want to take the self-paced version you can start right away here: http://school.bethbarany.com/courses/30daywc.
Follow our tips on Twitter with the hashtag: #30dayWC.