Getting Into The Swing of Things by Annmarie Miles
Join me as we welcome back Annmarie Miles this month as she shares with us "Getting Into The Swing of Things" Enjoy!
***
I have to admit it; I'm struggling to get going.
On top of holiday madness, we relocated from Ireland to the UK. So for a while, the only writing I was doing was putting numbers on labels and sticking them to boxes. Not very creative, but I'll be glad I did it when I'm finally reunited with my belongings. 🙂
Today is my first day 'back to work', so apologies if this reads like I've had to wrench every word free of the grip of my unwilling muse! It seems her New Year's Resolution is to ignore me.
There was a moment of panic when I thought I'd forgotten how to write. I looked at a blank page for a while, fell into despair, made more coffee and sat down to try again. You would think I'd have learned by now; the longer you leave it, the harder it is to get back into it. It's the same with exercise (or so I'm told), playing an instrument and speaking a foreign language. Use it or lose it!
Rather than beat myself up about it (that wasn't working either), I came up with a plan.  Here it is, if you'd like to give it a go. It is certainly working for me.
THE PLAN…
Be inspired by yourself
I decided to start by reading what I'd written before, to remind myself that I am a writer and can write.
I keep a copy of my book by my bed. (I've got books by other people there, so why not my own?!) It was lovely to revisit characters I'd spent so much time with. It turns out that one or two of them might even have some more to say…
Reading the stories again reminded me of comments I'd received about them. That led me to Amazon, to reread some of the reviews of the book. Maybe there was a bit of ego massaging going on, but it fuelled me up to get back in the zone.
Be inspired by others
I needed some other wisdom, so it was time for a New Year pep talk.
I went to some of my favourite writing blogs, to see what others are suggesting as inspiration and targets for the year to come. I love, goinswriter.com, positivewriter.com, writetodone.com and of course our own BethBarany.com. I've got some Irish friends with great blogs too like Book Nanny, Tara Sparling and Ken Armstrong.
Reading a range of stuff is important, different viewpoints, different emphases etc. I threw it all into the pot and pulled out what I felt would work best to get me started. I reckon it's different for everyone.
Resolve to inspire
After filling up on confidence in myself, then tips and suggestions from others, it was time to make a plan.
One of my favourite Christmas presents this year was the 'Writers and Artists' Yearbook 2015.' This publication has a whole host of submission opportunities, competitions, agents, publishers, articles etc. It is dubbed 'the writer's Bible.' So I'm going through it, making a tentative plan for submissions. It seems to be mainly Irish and UK info, but I'm sure that all over the world there are similar publications. If not, the web is your friend. There are plenty of places you can research where and when you can submit your work.
I'm also going to make a blogging calendar too… but you know what? I can read and research, plot and plan 'til the cows come home. The only way to get back into writing, I have found, is to get my BTM in the chair and get some words on the page…
So off you go!
But before you go… make sure to leave a comment below and tell us what helps to get you back in the swing of things.
***
ABOUT THE AUTHOR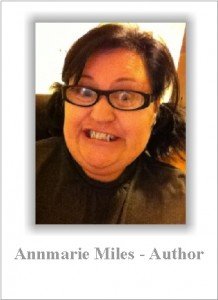 Annmarie Miles, part time writer, full time believer is 40something, Irish, Christian, married, and proud to be all of those things. She loves words, music & chocolate! You can find out all about her and her book "The Long & The Short of It" at the new website: www.annmariemiles.com.
Where to find Annmarie:
Email: amowriting@gmail.com
Facebook page:https://www.facebook.com/amowriting
Google+: auntyamo
Twitter: @amowriting
Personal Blog: www.auntyamo.com
Writing Blog: www.annmariemiles.com/blog