The Lucky 7: Favorite Writing Guides of 2013 by Tiffany Turpin Johnson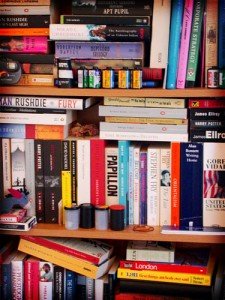 Welcome back to Tiffany Turpin Johnson, a kidlit writer and editor whose monthly column, Scribe Supplies: Writerly Tools for Success, brings you the best in all types of tools for professional writers. Today she shares some of her favorite writing books of last year.

***
The Lucky 7: Favorite Writing Guides of 2013
Each year hordes of guidebooks are released from traditional and indie publishers alike, not to mention all of the self-published titles out there, and it can be difficult to sort through for the ones that are really worth your time. If 2013 raced by too quickly for you to catch them all, never fear—I've done the legwork for you. Below is my list of favorite writing-oriented guidebooks released last year.
Creating characters… The Positive Trait Thesaurus: A Writer's Guide to Character Attributes and The Negative Trait Thesaurus: A Writer's Guide to Character Flaws by Angela Ackerman & Becca Puglisi (JADD Publishing, 2013)
From the creators of the staple resource The Emotion Thesaurus: A Writer's Guide to Character Expression come two new thesauri for your writing pleasure (I grouped them together because they're basically flip sides of the same coin). If you like your resources encyclopedia style, with little to no filler, both of these books are required reading for your character design. Each trait entry includes such useful information as associated behaviors and possible causes for the trait's expression. Together, the books are basically a human psychology primer for writers.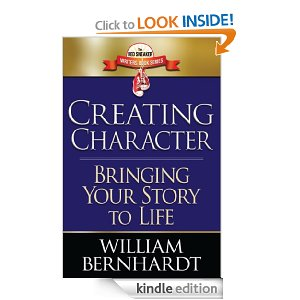 …and keeping them compelling. Creating Character: Bringing Your Story to Life (Red Sneaker Writers Book Series, Book 2) by William Bernhardt (Babylon Books, 2013)
I picked this one because it helps linear thinkers design their characters from the ground up using such big-picture considerations as the desired character arc and how you can utilize your characters as metaphors. Each chapter ends with section highlights and writing exercises to hit home the major points. The writing style is clear and to-the-point, which is nearly always a win for me.
Conversational creativity. Still Writing: The Pleasures and Perils of a Creative Life by Dani Shapiro (Atlantic Monthly Press, 2013)
I love the casual, straightforward voice of this memoir-craft hybrid. There's a lot to relate to in Shapiro's descriptive, often witty prose. She uses personal anecdotes to subtly teach writers how to improve their craft. The book reads like a collection of essays written by your best friend, so that the reading doesn't feel like work.
Annual annals. 2014 Writer's Market Deluxe Edition (Writer's Market Online) by Robert Lee Brewer (Writers Digest, 2013)
This tome would make my list any year, and not just for the extensive market listings for magazines, book publishers, journals, and the like. Brewer also includes a substantial section each year with articles on various factors of the freelance life, from determining how much to charge for each project you take on, to the craft of query writing. The deluxe edition includes a year of access to the (even more extensive) online listings. And there are more specialized versions of the book as well, if your interests are just in poetry or in children's literature, for example.
Down and dirty with the details. Structuring Your Novel: Essential Keys for Writing an Outstanding Story by K.M. Weiland (PenForASword Publishing, 2013)
I loved Weiland's grassroots original, Outlining Your Novel: Map Your Way to Success, when I stumbled upon it randomly via Amazon several years back. Although this new addition isn't as concise as its predecessor (coming in at over twice the number of pages), it is no less of a good read. In Outlining, Weiland focused more on the methods for planning your book, while Structuring focuses on the more specific details of plotting on all levels—story, scene, and all the way down to sentence.
Voice on the rocks. Writing is My Drink: A Writer's Story of Finding Her Voice (and a Guide to How You Can Too) by Theo Pauline Nestor (Simon & Schuster, 2013)
By the title alone, you can tell this one won't take itself too seriously. Like a good lemon drop martini, Writing is My Drink will give you the courage to express who you really are inside. It's a pep talk for creative types who need a little sip of loose-lippedness every now and then. If you find your muse running dry—or even just shutting up in mixed company—Nestor's metaphorical drink should get your fingers moving again.
Needing nonfiction. Good Prose: The Art of Nonfiction by Tracy Kidder & Richard Todd (Random House, 2013)
I work mostly in fiction these days, so I have to confess that beyond the free sample chapters, I haven't actually read this one. But if I were to step more fulltime into nonfiction ventures, this would be the first book I'd pick up.  Written by an established author-editor duo (one of whom happens to have a Pulitzer) and published by one of the Big Five, Good Prose gets an automatic stamp of approval. Its 45 5-star Amazon rankings are just icing on the cake. If you're looking to perfect the art of any sort of nonfiction, whether it's essays, articles, or full-length memoirs, this resource should have what you need.
Did I miss one of your favorites from last year? Tell us in the comments!
***
ABOUT THE AUTHOR: Tiffany Turpin Johnson is a novelist represented by Annie Bomke Literary Agency, and operates TJ Writeography, a freelance writing and photography service. She regularly contributes to various blogs, and serves as Senior Editor for Entranced Publishing and Assistant Editor for Compose Literary Journal. Find her at www.fictiffous.com and on Twitter at @Fictiffous.