Draw Your Readers In: The Game of Contrasts by Wyatt Bessing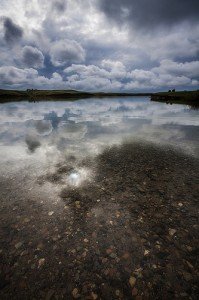 Welcome back to monthly columnist, Wyatt Bessing. A writing coach and teacher, author, Wyatt Bessing shares his fun take on games, play, and how they help our writing. This month Wyatt gives us tips on how to draw your readers in. Enjoy!
***
Have you ever had this experience? You're sitting in a movie theater during a raging battle scene. Swords clang and cannons boom. The entire theater seems to shake, and the cacophony onscreen literally pulls you to the edge of your seat. You hold your breath. The air feels as if its being pressed out of the room.
Then, suddenly… silence.
The scene has changed. It's quiet and our protagonist walks alone across a deserted plain, the battle over. A gray sky looms above and the patter of rain is the only sound you hear.
The feeling of release is palpable in the audience. All the air rushes back.
Using this technique in your fiction will draw your readers in. Of course, each scene you write needs a strong and specific setting, a description of what's going on around the characters, even if they are not themselves directly involved in the activity. But by consciously driving up the tension and activity in one scene, you will make the next scene feel quieter and more peaceful by contrast. Each moment will become more dramatic and memorable.
To play this game, first grab your Work-in-Progress (WIP) and a six-sided die. Then, make a list of six noisy, crowded, and or chaotic activities which your characters might witness or do. Finally, make another list of six quiet scenes your characters might inhabit.
Here are my six active scenes:
1: Skydiving
2: A concert
3: A parade
4: A Police chase
5: A robbery
6: A fire or other natural disaster
And my six quiet moments:
1: A light rain.
2: Diving underwater.
3: A redwood forest
4: A library.
5: Stargazing.
6: Candlelit dinner.
Create your own lists of six of each type of situation. Then roll a die and consult the "chaotic scene" chart. Consider including this activity as background in the first scene of your WIP. When your first scene is done, roll on the "quiet moment" chart for your second scene. Alternate these quiet and chaotic scenes to create dramatic contrast. Carefully manipulate the elements in each scene. To make a scene within the rising action of your story to feel especially chaotic and clamorous, remove as many busy and crowding elements as possible from the two surrounding scenes.
Here's an example: Having witnessed a horrendous car crash and been interviewed by police amid flashing lights and sirens, our protagonist arrives home and dives into her swimming pool. Now all she can hear is the beating of her heart and the dull throb of the swimming pool filters. She closes her eyes and floats in warm darkness. We linger on her sensations as she feels the water on her skin, wrapping her in a blanket of solitude. Perhaps this is her chance for introspection; she remembers something she saw in that last scene, a clue left at the crime scene that will propel her into the next busy, exciting plot twist. An image of the fleeing car that caused the accident sticks in her mind, and she can't help thinking it's her friend's car. Was it stolen? Or were her friends perhaps behind the wheel?
The reader will recover with her, take a deep breath, and prepare for her chaotic rush to discover the truth.
Remember: Don't recount every moment of your characters' lives. As a writer, your job is to present the crucial moments that develop plot and enhance character. Each scene is driven by a character's desire to attain something, even if that something is just sleep or food. Don't be afraid to hit enter a couple of times in your manuscript, make that double double space between paragraphs signifying a hiatus in the story, a jump in time (or at least in place) to a new scene.
And when you begin that new scene, consider creating a stark contrast with the last.
Right now I'm reading Libba Bray's wonderful novel Going Bovine. I love how she uses this technique in her opening chapter. In the first scene, our protagonist is five years old and trapped on the nightmarish Small World ride at Disney World. He panics and jumps off, only to find himself drowning as "above me, lights and sound blended into a wavy distortion, everything muted like a carnival heard a mile away." In the next scene, he's "sitting in the bathtub with the nonskid flower appliques on the bottom" as "all the adrenaline I'd felt earlier seemed to pool in my limbs, weighing me down."
From the height of excitement to the release of exhaustion, Bray takes me on a visceral ride of contrasts that I can truly feel. You too can use this technique to create memorable moments and keep your readers begging for more.
***
Wyatt Bessing is a writer, writing coach, and learning specialist. His stories and essays have appeared in Bedtime-Story.com, Outsider Ink, national educational assessment materials, and in the anthology Dance, Human Rights, and Social Justice. Through his workshops, website, and blog at wyattgbessing.com, he guides new and experienced writers in crafting more effective, expressive, and striking work. During the day, he works at Star Academy in San Rafael, teaching reading and comprehension skills to students with learning differences in elementary through high school. He lives in Santa Rosa, CA with his wonderful fiance and co-creator, Sarah Laugtug.