Tips and Workshops to Help You Plan Your Novel During Prep-Tober for NaNoWriMo
This post is about tips and workshops to help you plan your novel during Prep-Tober for NaNoWriMo.
NaNoWriMo is National Novel Writing Month, in case you didn't know, and is a free international event that takes place every November. Details and sign up here.
Prep-Tober is what a lot of writers call October. It's a cute name.
There are lots of ways to get ready for Nanowrimo.
I have some more Prep-Tober tips for you from various sources, including our own.
And a series of workshops this October from friend and colleague, Kat Caldwell.
Tips for Prep-Tober / October
"In terms of planning I would create character profiles if its a new series. That way you can actually see the characters in your head. And I would do a basic outline just for a foundation for your book. For me it always changes. Having a writer's notebook is also great too in case you're on the go you can just pull out the notebook and write notes." — Writer, Christine Kwasniewski
"Make a list of your influences and how you could incorporate what you like about them into your work." — paraphrase from writer, Mellissa Green
"Make sure your character changes somehow from the beginning of the scene to the end. Stay within the same POV during a scene. A scene should have a feeling of forward movement to make it necessary for it to stay in the story." — Novelist and Teacher, Kat Caldwell
Upcoming Workshops by Kat Caldwell
This year Kat Caldwell is offering you all some live workshops to help you plot, write a good scene, and figure out your characters. They will all be live and very fun.
Because writing out stories is fun!
She writes: "I know, I'm a dork. My kids tell me all the time…"
We have a special offer for being a Writer's Fun Zone blog reader. Stay tuned to the end!
Plotting on the Spot
On October 7 at 2pm EST Troy Lambert will join Kat (and you if you sign up!) for their Plotting on the Spot where they will plot a brand new story LIVE using Plottr.
How do we know it will be live?
Because he will pick a story from you, the audience!
If you want to attend this workshop, be sure to sign up by clicking here.
(You don't need to own Plottr to attend this workshop. Nor do you have to purchase it afterwards. The basics of plotting a story can be used with paper or other software.)
What's In A Character? Workshop
Then on October 17 at 1pm EST Kat will be hosting her What's In A Character? workshop.
They will be going over the 5 personality traits, how to apply them to your characters, and then they will work through their needs, wants, and desires LIVE.
Because talking these things through is essential to writing quickly.
This workshop will be kept to 10 seats, but she might open another one on Saturday, October 21 if people want it.
Be sure to let Kat know if you want the Saturday option! (Email Kat Caldwell.)
Six Scene Essentials workshop
And finally, on October 26 at 1pm EST Kat will host her Six Scene Essentials workshop.
This workshop will dive into what makes a great scene and how to make sure the scenes you write are engaging your readers.
There will be the option to get your scene edited for this workshop. (2500 word maximum.)
She knows what you're thinking, "This is great, but how much is it going to cost me?"
She typically charges $47 per workshop with a $40 charge for a scene edit. But for Prep-Tober she's going to run a cool sale on all the workshops for $37/each until September 30th at midnight EST. After which the price will be $47/each.
Special Offer!
But because you're a Writer's Fun Zone reader, we have a coupon code for you!
Just use WORKSHOP10 at the checkout to get $10 off.
Or use these links:
What's In A Character
https://writeyourstory.thrivecart.com/whats-in-a-character/?coupon=WORKSHOP10
Plotting on the Spot
https://writeyourstory.thrivecart.com/plotting-on-the-spot/?coupon=WORKSHOP10
Six Scene Essentials
https://writeyourstory.thrivecart.com/six-scene-essentials/?coupon=WORKSHOP10
ABOUT KAT CALDWELL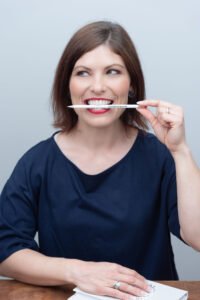 Kat is a fiction writer, an Author Accelerator book coach and hostess of the Pencils&Lipstick podcast. Her passion is to help writers write their story through encouragement and honing their storytelling skills. In between conducting interviews for the Pencils&Lipstick podcast and writing her next novel, you can find Kat traveling the world, reading, or volunteering with her church—always with a cup of cold brew close by. You can find out more about Kat on her website https://katcaldwell.com and follow her on Instagram @katcaldwell.author.
More Resources: Newsletter for writers
Connect on the Socials
Facebook
Twitter/X
Linkedin
TikTok
***
More Resources for planning and preparing for Prep-Tober / October
Plan Your Novel Like A Pro (book and course)
3 Tips To Get Ready for NaNoWriMo by Jordan Rosenfeld (article)
Nanowrimo Prep and Scrivener Sneak Peek by Catharine Bramkamp (article)