Freelance Writing Tips for Students by Lucy Reed
Today we welcome a new guest writer to Writer's Fun Zone, Lucy Reed who is stopping by to chat with us about "Freelance Writing Tips for Students." Enjoy!
***
Freelance writing is the perfect student side hustle: It offers complete control and flexibility. Since you decide which jobs to accept, it's easy to work around class schedules and extracurriculars. With the right strategy, you can make extra money while you're still in school and scale up to a lucrative career after graduation.
Building Your Writing Skills
As a student, you have access to a wealth of resources that can help you become a better writer. Take English or writing electives and listen carefully to feedback. Stop in during office hours to ask questions and read the notes on every paper. Don't forget about your university's writing center—it's free to students, so you can ask questions and get tips.
Other ways to improve your writing are:
Join a writers' group on campus
Volunteer to write for student groups or local nonprofits
Gathering Professional Writing Samples
When you apply for writing jobs, most clients want one thing: proof that you can write. Be prepared with a portfolio of your best writing samples. Three to five examples are usually sufficient. These can include:
Brochure copy for a student organization
A grant proposal for a community group
Articles for the campus newspaper
How to Find Freelance Writing Gigs
When you're confident in your writing skills, it's time to start searching for jobs.
Bid for jobs on marketplaces such as Upwork and Fiverr
Apply to online content writing agencies
Apply for online job listings for part-time remote writers
Advertise your services to local businesses
Tell personal and professional contacts that you're accepting writing gigs
How to Attract Clients 
When you're in school, time is tight. Another way to attract clients is to establish a professional presence—this strategy can also carry you through graduation and into your career.
Build a portfolio website with writing samples. Optimize it for search engines, and include a contact form to help potential clients to get in touch. This is particularly useful if you want to specialize in a specific industry or type of writing, such as engineering writing or real estate blogging.
Complete your LinkedIn profile. Include keywords related to your writing and unique experience.
Attend local business events. Go to networking events with young professionals groups, business incubators, and young-professionals groups. Hand out your business card liberally. When a local business or startup needs a writer, your name will be top of their mind.
Starting a Business
If you want to become a freelance writer, consider turning the business into an LLC. This flexible legal structure offers tax benefits and streamlines your paperwork; it also limits personal financial liability. Every state has different rules around LLC registration, so it's important to get up to speed before you file. When your schedule is busy, a formation service can save time and help you avoid expensive attorney fees.
Succeed at Freelance Writing
As you build a freelance career, it's helpful to seek support from other writers. Use the above guide to help you build a freelance career you'll love.
If you're a science fiction or fantasy writer, coach Beth Barany can help you develop a vision and get published. Schedule a session today!
***
ABOUT LUCY REED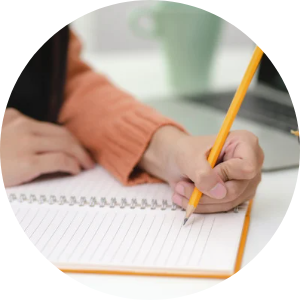 Lucy Reed has been starting businesses since she was a kid, from the lemonade stand she opened in her parent's driveway at age 10 to the dog walking business she started while in college. She created Gig Mine because she was inspired by the growth of the sharing economy and wanted to make it easier for entrepreneurial individuals like herself to find gig opportunities in their areas.