What the Book Podcast Interview with Beth Barany
Dzintra Sullivan and Steven Ross recently hosted me on their podcast What the Book where we discussed my writing history, the many genres I write in, and how strong heroines take the lead in my novels. 
Listen to the podcast on Spotify or Podbean 
NOTES FROM THE SHOW
WTB sits and talks to talented sci-fi/fantasy author and writing coach BETH BARANY.
About Beth Barany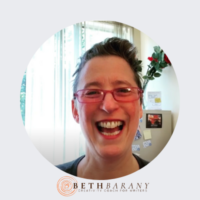 Award-winning author, Beth Barany writes in several genres including young adult adventure fantasy, paranormal romance, and science fiction mysteries. Inspired by living abroad in France and Quebec, she loves creating magical tales of romance, mystery, and adventure that empower women and girls to be the heroes of their own lives. For her day job, Beth helps other novelists write, publish, and market their books as a creativity coach and a teacher.
Website: author.bethbarany.com/
Twitter: twitter.com/bethbarany
LinkedIn: linkedin.com/in/bethbarany/
About the hosts
About Dzintra Sullivan 
Dzintra Sullivan is a #1 Bestselling author of 22 books and podcast host on What the Book featuring Indie authors. Her books include Immersion, Once Upon A Death and most recently Stone Washed Wings. 
Connect with Dzintra here on booksbydzintra.com/ and on Twitter, Instagram, and Facebook.  
About Steven Ross 
Steven is an author, poet and podcast host. His first book The Love of the Hunt was published in 2022 along with his first poetry book Lines of Night and Light. 
Connect with Steven on authorstevenross.com/ and on Twitter, Instagram, and Facebook. 
***
For more interviews with Beth, click here.
If you'd like to invite Beth onto your podcast, drop her a note here.