Should You Become a Part-Time Proofreader as a Writer? by Thao Nguyen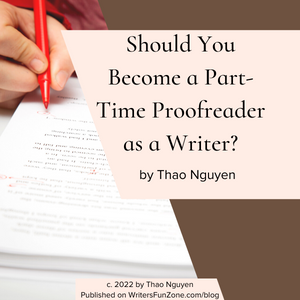 Let's welcome back monthly columnist Thao Nguyen as she shares with us "Should You Become a Part-Time Proofreader as a Writer?" Enjoy!
***
As satisfying as a writing career may be to your creative mind, being an author can be a little more slow-going when it comes to financial rewards.
After all, writing a book is a significant investment of time and energy, and it often takes time for that investment to start to make returns in the form of sales. 
Most authors take on other occupations alongside their writing, and proofreading is a closely related line of work that many opt for. 
But should you go for this option as a writer? 
What are the benefits and drawbacks of such a route? 
Let's take a look at the requirements and realities of becoming a proofreader to see whether it fits your preferences and schedule.
A Proofreader Scrutinizes Texts
The good news for authors is that proofreading is closely related to writing. 
If you want to work on something different while still enriching your own storytelling craft, this is the perfect choice. You'll basically get to read more books and get paid for it! 
As a proofreader, you can branch out to other areas of writing (i.e. digital content, academic papers) or you can pick projects that are in the same genre as your own. 
In fact, your experience as an author in a specific genre can be a credential that will attract like-minded clients. Regardless, being able to read more can only help you develop your own skills. 
That being said, proofreading and writing are very different tasks. 
To be a proofreader, you have to pay careful attention to every detail of the text, particularly honing in on spelling, grammar, and punctuation. 
The aim is to make sure that your client's manuscript is flawless in a technical sense — i.e., it is not your responsibility to edit the prose itself. Language style is for the writer and their copy editor to tinker with, not the proofreader. 
In other words, you shouldn't go into the proofreading profession with the mindset you use when self-editing. 
Remember that you are there to focus on the technical aspects of the writing (which you can brush up on with a good proofreading course). 
You are also proofreading someone else's work, which carries its own style and intent. If you can make this clear in your mind and separate your creative flair from your technical rigor, then proofreading is a good possibility for you. 
You Get Paid By Project
Whether full-time or part-time, proofreaders work and get paid on a project-by-project basis. 
Taking into account the fact that our brain can only focus on a single task for so many hours a day, a full manuscript usually takes 2-4 weeks. For writers who sometimes need to make time for their own writing: you can adjust your schedule and the number of clients you take on to fit your writing plan for your own work. 
This flexibility and the prospect of reading for an income is great, but that doesn't mean that you should accept just any rate. 
Proofreading is hard work, so your proposed fees should be up to industry standards. On average, proofreading rates are between $10 and $12 per 1,000 words — so you can make roughly $600-$800 per manuscript. 
Your rate may fluctuate depending on the genre of the work — a historical fiction or non-fiction book may require some fact-checking from the side of the proofreader. Considering the specialized knowledge involved in these cases, it's natural to demand a higher fee in such genres. 
Proofreading Means Running A Freelance Business
So, proofreading is flexible, it's within most writers' wheelhouse, and it earns decent money. 
Before you rush into it, let's think about one of the biggest potential obstacles: the freelance nature of the job. 
Nowadays, even publishing houses (especially smaller ones) outsource proofreading tasks to freelancers, in order to save on costs while getting access to a wider talent pool. 
You do get a lot of job prospects this way, but the abundance of opportunities also means that the competition is that little bit fiercer. 
The key, then, is to treat your proofreading hustle like a professional freelance business. 
Getting Started
Create a website (or add a "Proofreading Service" tab to your existing author website) and an online profile where you can lay out your experience and credentials. This will be the storefront you'll use to convince clients to work with you. 
How authors and publishers find this storefront is a matter of marketing. 
As with any business, customers aren't going to stumble across you: you need to let the world know about your service first. 
Reach out to fellow authors or editors that you know and see if they know of anyone in need of a proofreader. Alternatively, there are a lot of remote proofreading jobs advertised out there that you can apply to directly. Regardless, your client will end up checking out your profile, so you'll have to make sure it's the strongest it can be before reaching out. 
The Business Part 
Another thing to take care of as a business owner is the paperwork — you'll need draft contracts and invoice templates, at the very least. Having these documents ready can help you maintain a professional approach and save you time when you start working with clients. If all goes well, you will also have to provide some of these documents when you file self-employment taxes, so keep them organized from the get-go! 
Of course, a small-scale business like a proofreading side hustle is unlikely to require a lot of paperwork, but there will still be some. The sooner you think about it, the better your work experience will be. 
If this sounds like something you can handle, and if you want to earn some extra income while still working with books and texts, proofreading may be a good venture to explore for you. If the proofreading life doesn't quite suit you, there are other options for writing-related hustles that I will cover in upcoming posts, so stay tuned! 
***
Want to read more articles like this one Writer's Fun Zone? Subscribe here.
***
ABOUT THE AUTHOR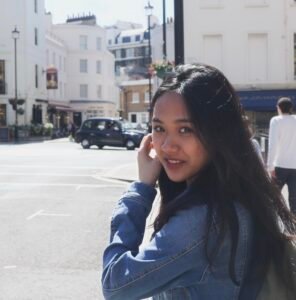 Thao Nguyen writes about history, diasporic experiences, and writing. You can find her work in Literally Stories, Anak Sastra, or on Twitter @thao__to
***
Editor's Note: Resources for developing your story and your characters so that you have diversity in your writing:
***
Other articles by Thao Nguyen
https://writersfunzone.com/blog/2021/11/30/should-you-escape-the-amazon-monopoly-the-pros-and-cons-of-the-retail-giant-by-thao-nguyen
https://writersfunzone.com/blog/2021/09/28/3-ways-to-identify-a-publishing-scam-by-thao-nguyen
https://writersfunzone.com/blog/2021/07/27/writing-short-stories-can-make-your-novel-better-by-thao-nguyen
https://writersfunzone.com/blog/2021/05/14/3-essential-tasks-a-ghostwriter-does-you-may-want-to-become-one-by-thao-nguyen