Tips on Finding Time To Write When You Have A Full Time Job by Janelle Riley
Let's welcome back monthly columnist Janelle T. Riley as she shares with us "Tips on Finding Time To Write When You Have A Full Time Job." Enjoy!
***
Writing is a hard job and it can be even harder when you are running a household or holding down a full 9 to 5. 
So how does one have the time to write? 
The answer to that question is easy. Time management.
I'm a stay-at-home mother of three and a full-time business owner of a photography studio. 
While the children are at school, I'm away doing photoshoots and editing the images thereafter. 
From that point I'm preparing meals, helping with several projects, and getting kids in bed on time.
You are probably wondering with all of this on my plate, how was I able to knock out three novels and find the time to write articles?
Finding Time To Write: Schedule Time 
Like scheduling clients for a shoot or scheduling an after-school activity, I will schedule for at least three to four hours of writing time in the evening.
Oh yeah, I have to schedule a time to write when the house is quiet and I'm not working on editing photographs. 
Usually around 9 pm to 11 pm—sometimes to midnight—I give myself enough time each night for completing a few chapters or making sure I complete an article for a deadline.
Taking Breaks 
And like any job, I treat my writing in the same manner by taking breaks—giving myself at least a couple of days so that I don't become burnt out from my passion. 
I do this simply because I enjoy what I do and it's important for me to stay on top of my creativity so that it doesn't become stale.
There are steps to take when trying to write with a busy schedule. I started off trying out all sorts until I came up with three of my own.
Steps to Finding Time To Write 
STEP 1: Don't Quit Your Day Job or Don't Stop Being a Parent. 
Continue on with your daily routine. 
I find I'm most creative when I'm busy doing laundry, washing dishes, or even preparing a meal. 
Heck, I will even gain a wonderful story in my head when I'm editing images for a client.
Whatever you're working on outside of writing, your stories will come to you while you work. 
Be sure to have a notepad handy or a recorder and record or jot down your ideas.
STEP 2: Find a Time and Area That Works for You When It's Time to Write. 
Be prepared to either buy a cheap planner or create one online. 
Finding time to write is essential to writers. You want to make sure nothing and no one will impede on your writing. 
Pencil in any available time during your busy schedule to write. It can be up to two or three hours, sometimes even 45 minutes can get you a few pages.
Locating a spot to write is just as important. 
You don't need a room with a fancy desk or swivel leather chair. You can work in your bedroom, the living room, or convert a closet into an office. I know a few who had converted their carports into their very own writing offices.
It sounds silly, but it does work in getting the job done, as long as the space you're writing in is quiet and free from distractions. 
Speaking of distractions, you would be surprised if I told you a copy of Food & Wine magazine can be a great diversion while I'm writing. 
Be sure to get rid of the following while composing your manuscript: 
magazines, books, television, social media, and yes screaming babies.

Phones should be placed on silent and put away. 

Turn off notifications on all social media and texts. 
Trust me, that recipe in your favorite magazine will be there. Those last five chapters in the book you were reading aren't going anywhere. Finally, that ridiculous post from your Twitter, Instagram, or Facebook friends may not influence you to get you to write.
STEP 3: Don't Let a Busy Schedule Deter You from Your Dreams. 
Your writing is an added task in your schedule, treat it as such. 
As my late mother has always told me: 
"If it's something you really want, you will find a way to make it work." 
Time waits for no one. If you have a passion when it comes to writing, make the time and manage it wisely. I promise, you won't regret it.
***
Want to read more articles like this one Writer's Fun Zone? Subscribe here.
***
ABOUT THE AUTHOR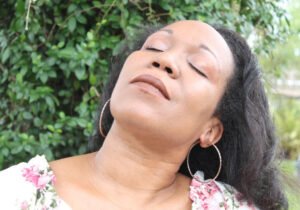 Janelle lives in Louisiana with her husband, their three children, and Hamilton their half lab half Rottweiler. Along with writing, she's a professional photographer and enjoys being outdoors photographing people and nature. When not writing or photographing, she enjoys traveling, drawing, listening to music, and cooking. 
Janelle's on Twitter @janelletriley1 and Instagram @tejay_riley5