How to Discover Your Authentic Promotion Style by Catharine Bramkamp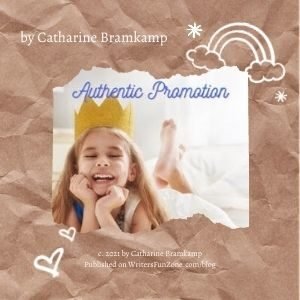 Let's welcome back monthly columnist Catharine Bramkamp as she shares with us "How to Discover Your Authentic Promotion Style." Enjoy!
***
Is there an easy way to promote your work that looks less like middle school dodgeball and more like synchronized swimming?   
We all subscribe to hundreds of helpful blogs, so we understand that the best way to promote our books is to know our audience. But how do we "know" our audience?  
Often, we hopefully think that our book will have something for everyone, or our principles apply to a broad audience: dodgeball.
At best we randomly throw out social media posts, plans, and notifications without really targeting or specifically aiming our throws. 
We need to focus, aim, then throw. And the easiest way to determine who the next target is, is to know who they are. 
And the most effective way to understand your potential audience is first really understand your book and your purpose in writing it.  
This applies to both fiction and non-fiction, so fiction writers, no getting out of this!
To Start Your Authentic Promotion, Know Your Book's Purpose 
Why did you write your book?
You may know or you may need to ask a few more questions to get to your ultimate purpose.
There can be more than one, but it will not be: my purpose is to write a best-selling book.
Here are some questions to help you brainstorm your book's purpose, so that you can do your authentic promotions.
What issues or pain do you want to heal?

What process have you mastered that you now want to share?

What kind of outreach do you want to express? 

Do you want to enhance or establish your expertise? 

Do you want to create a book that amplifies your business? 

Do you have timely insights that need to be shared?                          

Do you have a singularly unique story? 

Are you the voice for the voiceless?

Have you always wanted to be a published author? 

P.S. Money is not a purpose.
Authentic Promotion: What is Easy? 
Another way to tap into your expertise and to discover your audience is to identify what you do really well, even automatically.  
Sometimes we are so good at what we do we forget that what we find easy, even enjoyable may well be a thorny challenge for others.
When you have a conversation or start helping a friend solve a problem, you probably naturally and effortlessly shift into your expert mode.
Without thinking much about it, you break down language, code, seasons, energy, or formulas in your head while all those around you are stunned into silence.
Questions to Help You Brainstorm What's Easy for You 
What is easy for you?

Do you want to share?

What are you constantly, always, irritatingly, asked?
Spend some time considering what is super easy for you.  
How To Find Your Audience 
Is this process or insight easy for you but apparently difficult for others?
They are your audience. The audience for your book and lectures can be found in the gap between your knowledge and their need to know.    
For Your Authentic Promotion, Tap into Your Own Inspirational Story 
To add to this collection, tap into your own story.  
What inspired you to become an actor or designer or healer? 

Can you describe how you overcame the obstacles and tests necessary to become who you are now, and how you earned the title Expert?

Did you learn, the hard way, how to survive a particularly vicious dodge ball game?  

What, if anything did you sacrifice to obtain the perspective you have today?

Was there ever a moment of shock?

How long did it take to recover and how?

Did you do it alone or did you have help?
Your audience are the readers who can relate to your story, need your information and expertise, and can directly relate to your purpose.  
Once you identify these audience members (and no, they will not be "everyone" or "the whole universe") it is easier to find them.
Next Steps: Promote! 
When you are ready, research the social channels most visited by your potential audience. 
Once there, introduce yourself, engage, be interested and interesting. 
It's much like the small talk that happens right after a lecture or book signing, only now we do all that small talk first – before the audience signs up for the class, the workshop or buys the book.   
If you are passionate about your subject, purpose, and the book's message, it is easier to spend time discussing, researching, and offering information about the book. 
Authentic promotion focuses on giving out information, engaging people with questions and queries. 
It's a conversation expressed in the format and social channels work best for you and your readers.   
Does it happen all at once?
No. 
Will there be experiments and failures?
Oh yes.  
But you will inch closer to the ultimate goal of not only selling your books but becoming one of the acknowledged experts in your field.
You will be that author, you will have your audience, and it will feel like a perfectly executed water ballet.   
Learn more at the Sierra Writers Conference: https://sierrawritersconference.org
Want a fun way to tap into your authentic self?  
Join us for the Spring Season of the Author Queen Writing Society — and get your book written in an easy way! https://www.sonomahealingpress.com
* This article first appeared in the Sierra Writers Newsletter.
***
Want to read more articles like this one Writer's Fun Zone? Subscribe here.
——
***
ABOUT THE AUTHOR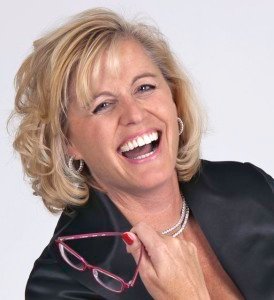 Catharine Bramkamp is the co-producer of Newbie Writers Podcast that focuses on newer writers and their concerns. She is a successful writing coach, Chief Storytelling Officer, and author of a dozen books including the Real Estate Diva Mysteries series, and The Future Girls series. She holds two degrees in English and is an adjunct university professor. After fracturing her wrist, she has figured out there is very little she is able to do with one hand tied behind her back.