Failing Upward: A Glance Back as I Look Forward to 2021 by Keri Kruspe
Let's welcome back monthly columnist Keri Kruspe as she shares with us "Failing Upward: A Glance Back as I Look Forward to 2021." Enjoy!
***
Congratulate yourself… we did it. 
We survived one of the strangest years in humankind's recent history. Who knew on January 1 of last year everything we took for granted would be turned upside down? 
Here in America, we got caught up in a political nightmare that divided the country. Piled on that, a smorgasbord of underlying unrest in human differences was shoved into the mainstream. Sometimes violently. 
Then came the global pandemic. I don't know about you, but the controversy surrounding that issue befuddles me. All I can say is that it's my sincerest wish we all come out victorious in the end. 
As I look at the indie publishing world, if anyone says there weren't any shifts in the industry is either lying or completely blasé about the whole thing. 
Now at the beginning of 2021, I'd like to look back at what I learned in 2020 and plan what I'll focus on in the future.
After all, I'm a firm believer that you can't know where you're going if you don't know where you've been…
Before We Look Forward, A Quick Glance Back…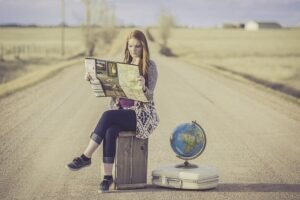 I started my second year of being a published author by releasing the last book in my Alien Exchange trilogy and then launching Book One of the Alien Legacy five-book series. 
As of the beginning of September, I had published five full novels and a free novella. 
Having said that, I'm nowhere close to reaching my goal of becoming a full-time author. I still have a full-time job. I'm an essential worker in a bank, working forty hours a week. 
To keep my author business afloat, I created a daily routine. 
Every morning I'm up at 4:30 (including weekends) and put in a minimum of two solid hours of work. Mostly with writing/editing, but on special occasions I'll devote some of that time to marketing. I also include at least 3.5 hours a week in training, listening to podcasts while I get ready in the morning or when I drive to work. 
Now that I'm not scrambling around like an idiot trying to figure out how to write a novel (POV [point of view] and I went through some rounds before the concept finally sunk in my thick brain), launch a publishing career as well as starting my own business, I can streamline my focus. 
A Look Forward Into 2021
My goal for 2021 is to be leaner and smarter and to concentrate on fewer "distractions."
To do that, I'm going to work on things I like best. Embrace my bliss, so to speak. I've analyzed what I'm good at and will work on honing my skills in these areas:
Blogs


Such as this one! I love sharing my thoughts as a burgeoning writer here on the

Writer's Fun Zone

. To explore my passion of SciFi Romance/Paranormal Romance, I started writing articles on

Romantics Paranormal

 

that comes out on the 10

th

. 

Posting on Social Media


This has been a bugger for me. To overcome the anxiety of posting to social media, I created a monthly marketing plan that determines which book(s) to promote. From there I figure out the various avenues and subjects I want to cover. As a rule, I only post "sales" of my books once or twice a week. The rest of the time I spend on fun things–i.e. Monday Musings/Word Cloud Wednesday/Friday Fun. Doing this satisfies my "content" marketing, and also gives me a chance to interact with others… not that I get a lot of responses. Even so, I'm going to keep at it.



Writing


I love, love, love writing my novels. While I'm hardly making any money from them (just barely enough to do a tiny bit of ads), I have found my passion and I'm going to keep doing it. I am thrilled to report that I've gotten some great reviews from all my books, so I don't see a reason to stop.



Editing


While we might lump this in with writing, I find editing my first draft into a readable story is quite gratifying. I feel like Michelangelo sculpting David…
Looking Forward: How Does That Fit Into My Author's Goals for 2021?
My overall goal hasn't changed. I'm determined to become a full-time author. To do that, I'll rearrange my schedule for the things I've listed above and change some habits. 
Publish 3 Books This Year 
I went back to analyze what I spent my time on — I have a daily tracking system so it was easy to do the research.
It shocked me to realize I had fallen into the bad habit of starting another novel before finishing the old one, which made me lose focus on both. 
That stops now. I won't get diverted — it's taking too long to finish each book, usually around nine months. That's way too long if I want to increase my publishing goals to releasing three books a year. So, I'll be more of a plotter instead of a panster as well as use dictation consistently. 
Look Forward to More Training
Writing for me is a never-ending adventure. I want to perfect my craft, so I will take several courses throughout the year to become an even better writer. I have several courses just sitting there waiting for me… all I have to do is make time for them. So, into the monthly schedule they go!
Hindsight is All Well and Good… 
While I feel 2021 is coming in rough, I'm hoping if I stick to my plans. By the end of the year I'll reach my elusive goal of becoming a full-time author!
***
Want to read more articles like this one Writer's Fun Zone? Subscribe here.
***
ABOUT THE AUTHOR
Keri Kruspe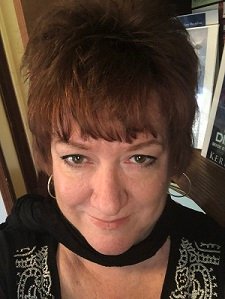 has been an author since the age of twelve and has always been fascinated with otherworldly stories that end in Happily Ever After. Author of Otherworldly Romantic Adventures, Keri's first series is An Alien Exchange trilogy. An Alien Exchange is the first book in the arousing Alien Exchange sci-fi romance series. If you like sexy aliens, feisty heroines, and fast-paced action, then you'll love Keri Kruspe's steamy space adventure.
Keri now resides with her family in the wilds of Northwestern Michigan. An avid reader, Keri enjoys good wine, good food, and watching action/adventure movies. You can find her most days immersed in her fantasy world of writing or traveling with her hubby in their RV, discovering intelligent life here on Earth. For goodies, news of upcoming releases, sign up for her newsletter at www.kerikruspe.com.