What are Your Options for How to End Your Scenes? by Beth Barany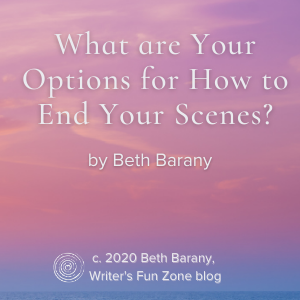 In this post I discuss your options for how to end your scenes.
After you eat a delicious meal, you're left with a sensation, usually a feeling of pleasant fullness. The resolution of a meal.
At the other end of the spectrum, when you cross the street and a cyclist whizzes by you, barely missing you, and you rush to get to the sidewalk, your heart is pounding. You are grateful to be alive. Maybe a little angry with the adrenaline pumping through you. The resolution of successfully crossing the street.
You have come through a wonderful or challenging experience and now you feel something.
When you share that feeling from your point of view character, that is the resolution. That is the end of your scene.
In a previous article here, I talked about how to craft scene beginnings and setting the stage for your scene.
Today I'll talk about scene endings, so that you can expand your novel writing tool kit.
(Thanks to Joan for asking this question at our monthly Insider Hour — open to all newsletter and blog subscribers. Go here to sign up.)
How to End Your Scenes
For your scene endings:
* What do they need to be?
* Why do they need to be that way?
* And, what are some of your choices?
Every part of a scene has a function and a corresponding emotional experience for the reader and for your point of view character.
The ending of your scene is a resolution and can take the form of just a sentence or two. Of course it can be longer.
An Overview of Scene Structure
This model is from Shawn Coyne. You see the lesson in our Plan Your Novel course here: https://school.bethbarany.com/courses/30daywc/lectures/256684.
1. Inciting incident
2. Progressive complications
3. Crisis
4. Climax
5. Resolution
Leave Them Wanting More
Joan also asked me about chapter endings.
Chapter endings often break in the middle of a scene, usually at the crisis moment, when the point of view character is faced with a choice. Stop there. Make the reader turn the page to the next chapter to discover how the character responds to the difficult choice they faced at the end of the previous chapter.
You have options on how to end your scenes. Play, explore, and let me know how it goes.
Let me know if you have further questions about scene endings and I can address them in a future post.
Happy Editing and Writing!
Then schedule a chat with me here:
https://coaching.bethbarany.com/contact-us/
I look forward to connecting with you.
♥
About Beth Barany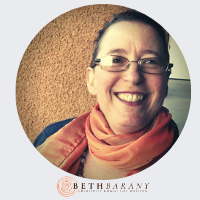 A Master NLP Practitioner and certified creativity coach for writers, Beth runs Barany School of Fiction, a full suite of courses designed to help genre fiction writers experience clarity and get writing, so they can revise and proudly publish their novels to the delight of their readers.
Based in Oakland, California, Beth Barany has presented at Ithra Center (King Abdulaziz Center for World Culture) in Dhahran, Saudi Arabia, at the Women's Fiction Festival in Matera, Italy, at Romance Writers of America National Conference, at Emerald City Conference in Seattle, Washington, at the San Francisco Writers Conference, and at San Francisco Bay Area chapters of SCBWI, CWC, and RWA.
Award-winning novelist, Beth Barany writes magical tales of romance, mystery, and adventure that empower women and girls to be the heroes of their own lives.
She is the award-winning author of Henrietta The Dragon Slayer, the acclaimed paranormal romance author of the Touchstone series, and is proud to release her newest novels, science fiction mysteries about Janey McCallister space station investigator.
The first book in the series, Into The Black, is a Page Turner Awards Finalist, and as a result, won an audiobook publishing contract.
She has also written books for writers, including Plan Your Novel Like A Pro, co-written with her husband, thriller writer Ezra Barany.
***
Want to read more articles like this one Writer's Fun Zone? Subscribe here.
***
Hook Your Readers With Great Beginnings and Endings by Kay Keppler