Procrastination or Productive? Flashing Forward to Writing The Sequel by Nevada McPherson
Let's welcome back monthly columnist Nevada McPherson as she shares with us "Procrastination or Productive? Flashing Forward to Writing The Sequel ." Enjoy!
***
I've been writing here about working on the rough draft of my novel for some time, and now I'm in the editing phase, filling gaps in plot that I might have missed (or avoided) before. 
As I get closer to completing this project that has been my obsession all year, I find that my mind keeps jumping ahead to the sequel, where minor characters from this novel will become major players in the next. 
It's exciting to know that I'm fired up enough about a sequel that I can see it, hear it, feel it and taste it, but I have to keep that one at bay so that I can fully focus on the task at hand, which is completing the project I'm focused on now.
The Good Thing about Flashing Forward to Writing The Sequel
The good thing about thinking ahead is that when I re-focus on my current project I have some insight into relationships that will form and character motivation that's beginning to take shape.
Like Stanislavski once said, "There are no small parts, only small actors," and knowing what will happen next with my minor characters helps me to supply details that elevate them from "minor" to "supporting," because they support the current story, influencing events and the actions of my major characters.
The Bad Thing about Flashing Forward to Writing The Sequel 
The bad thing about thinking ahead is that when I do go beyond the end of the novel I'm working on now, it sometimes feels like pure procrastination.
In projecting my imagination into a future project, I realize I'm avoiding hard questions I need to answer to complete today's difficult scenes and tricky revisions. I start getting the feeling I have when I'm looking at my phone too long, or watching too much television when I really need to get back to work. 
Thinking about my next writing journey definitely has a time and place in the big scheme of things, but giving in to temptation while I'm committed to wrapping up the novel on which I've spent the last year, makes me feel guilty. 
These characters' growth and development, and their stories are vital as well—they just have to wait their turn!
I'm Not Alone in Flashing Forward to Writing The Sequel 
At least I know that when it comes to this phenomenon, I'm not alone in my tendency to jump ahead. 
I've come across other writers in my online community who say the same thing happens to them. Pulitzer Prize-winning author Michael Chabon echoes the idea in a quote posted on The Script Lab website:
"Ideas are the easy part. I spend a lot of time batting them away, trying to keep them from distracting me from what I actually have to focus on and finish." 
So, here's to a focused fall, and to finishing what we're working on now—while looking forward to the next shiny new project! 
Happy writing!
***
ABOUT THE AUTHOR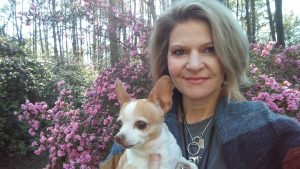 Originally from Georgia, Nevada McPherson lived in uptown New Orleans for many years and now lives with her husband Bill and rescue Chihuahua, Mitzi in Milledgeville, GA where she is a professor of Humanities at Georgia Military College. Nevada received a BA in English/ Creative Writing and an MFA in Screenwriting from Louisiana State University-Baton Rouge. She's written over a dozen feature-length screenplays, one short screenplay, a short play, short stories and two graphic novels, Uptowners and Piano Lessons. Queensgate, the sequel to Uptowners, is her third graphic novel. For more information, visit www.nevada-mcpherson.com.