6 Ways Any Author Can Use Social Media to Build Community by Ann Woodford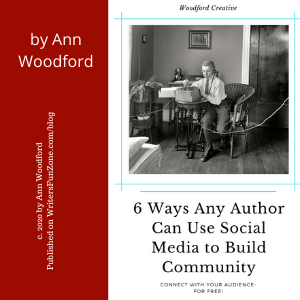 Today we welcome a new guest writer to Writer's Fun Zone, Ann Woodford who is stopping by to chat with us about "6 Ways Any Author Can Use Social Media to Build Community."  Enjoy!
***
The first social media was invented in 1792. You read that right.
Before I tell you what amazing social media tool the 18th century had, let's define social media.
Social media, according to Merriam-Webster, is a form of electronic communication to share information, ideas, and personal messages.
Have you guessed the 18th century social media invention?
It was the telegraph! 
In the last few decades, social media has become a huge part of our culture. Who would have thought?
A mere twenty years ago it was a nuisance, something your children paid attention to when they were supposed to be doing chores—or maybe that was you.
It's still a nuisance, sometimes, but it has grown to be so much more!
Build Community and More
Used responsibly, social media is an opportunity
to make friends you might never meet
to reach out to your audience and get to know them
to share crucial information about your products
to explain how to use them
to show how they can change your readers life
It doesn't matter what you're selling, social media is the way to reach people.
And, it's free!
I bet you're wrinkling your brow. Maybe you've heard horror stories about authors using social media to market. Or maybe it just doesn't make sense how you can market on social media without listing a wall of buy links. Which is a terrible idea.
Good news! It's super easy. 
Readers already know how to use a book. Or they should anyway.
And, they already know how it will affect them, for the most part.
So, all you have to do is let them know your books are available to read.
It's All About The Community
The thing to remember about social media is that it's about community, it's all about making your community larger.
That's what that first telegraph was about. Reaching out to someone who was too far away to visit.
I wonder if Jack, Noah, Biz, and Evan had the telegraph in mind when they gave us a 140-character limit? (Founders of Twitter)
As authors, we can use social media to build a community of friends; other authors, readers, established and new, trivia lovers, anyone who you meet.
Friends will read your books and tell other people to read them too!
6 ideas for building community on social media
Here are 6 ideas for building community on social media.
Appreciate your readers. Post the lovely reviews you get and thank the person by name. Express gratitude to your readers for milestones: bestselling, awards, etc. You couldn't have gotten there without them. Make sure they know that you know that!
Appreciate your fellow authors. Read a book you loved? Tell them on social media! Got help from a fellow author? Thank them! You can do this without revealing the help if you need to. And, of course, review their books for them.
Interact with your readers. Ask them what they are reading or want to read. Discuss ideas with them. Do a reader Q & A.
Update your readers on your progress with word counts, cover reveals, ARCs (Advanced Reader Copies), and launches. Keep them excited for your next release.
Make your story come alive for your readers with vision boards. Use Pinterest to show your readers what you imagine for your story. Keep them engaged by asking if it's what they imagined.
Create conversation with your readers with memes, quotes, questions and thoughts, or play games with your readers. Post polls and quizzes. Make a short "Mad Libs" for them to fill out and then laugh about the results. (You can, and should, name this something else, as Mad Libs is copyrighted.) Be creative! Fanatical Fans, or Preposterous Propositions. Pull a paragraph from one of your books, just a few sentences, remove a few nouns, verbs, adverbs and adjectives from it and post a request for fill-ins. Such as "I need 2 verbs, 3 adverbs, 2 adjectives and a noun." Put a time limit on it, and then post the results. You could even offer a prize to the one that gets the most likes.
An Amazing Tool for Connection
Social media is an amazing tool we have at our disposal to connect to our readers and fellow authors. I encourage you to reach out and use it.
***
If you need help using Twitter, check the writer's Fun Zone editor's book, Twitter for Authors: Social Media Marketing for Shy Writers.
***
ABOUT THE AUTHOR
Ann Woodford is the real-world sister to Willow Woodford. She's a grad student and blogger, and in her spare moments she helps authors connect to their audiences. Let Woodford Creative help you be a Siren in an ocean full of mackerel. Connect with Ann and Woodfood Creative here: fb.me/woodfordcreative.