Making an Editorial Calendar by Willow Woodford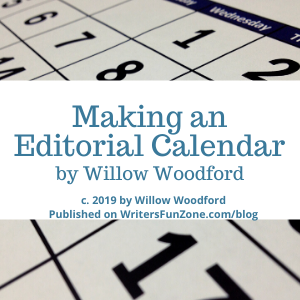 Let's welcome back monthly columnist Willow Woodford as she shares with us: "Making an Editorial Calendar." Enjoy!
***
In March 2019 there were an average 4.4 million posts a day! Yes, you read that right. 4.4 million! 
I started blogging ten years ago. I'd wake up with an idea, pound out a thousand words and hit publish after a cursory second read for typos. And then, I'd go about my day. Without a second thought to what I'd write about next, or when I'd write it. Or what research I should do for future topics. Eventually, I'd run out of ideas to write about and change the topic of my blog so I could write about something else. 
I blamed this on not knowing how to write well enough. 
The real culprit was my lack of organization, consistency and an editorial calendar.  
What is an Editorial Calendar? 
An editorial calendar is a planner that tells you 
what you will write; 

when you will write; 

who you will write for. 
It can be as simple as a list or a handwritten calendar, or as complicated as a spreadsheet or an app. 
Some things to keep in mind:
There is no one size fits all when it comes to editorial calendars. What you use depends on your needs, the number of posts you write each day, week, or month, and the size of your team.

An editorial calendar gives you a place to jot down ideas, organize and develop them, and adjust them as you see how they'll work together. 
I use Trello because I also use it for business. I have a board dedicated to my editorial plans. I have columns for each place I submit, current projects, editing, and next in line. I can add due dates to each "card" and shift into calendar view if I need. 
Do I Need an Editorial Calendar? 
I'm glad you asked! If you write, more than one post a year, you need an editorial calendar. 
You need it to plan your posts and articles out so you can:
Know what to write;

When to write it;

Plan themes;

Plan series. 
How Do I Make an Editorial Calendar? 
It can seem daunting to plan what you will be writing six or twelve months from now, but once you get started you will find it flows much more fluidly than you thought it would. 
Your first step is choosing how you will make it. You should consider your needs during this step. 
How many people are on your team? You need a plan for how everyone will access the calendar, edit it, and move information through it. If it's just you, then your decision might be easier. 
You need to set your objectives for writing. 
Who are you writing for?

Yourself or others? Or both? 

How often will you write?

Daily? Weekly? Monthly? (If you write for multiple people or places you may have different answers for each place.)

Why are you writing?

To develop your name and visibility? For the joy of it? To make money? Some other reason?

What resources do you have available?

An editor? A design consultant? Are you on your own? Take these into consideration when you're planning your schedule. The less help you have the more work you have to do. 

How will you make your content stand out

from the other 3,999,999 post published that day? This can be a compelling hook, great graphics, swaggy social sharing. Just make a plan. 
Once you've answered the questions above, you're ready to build your calendar. 
There are a variety of ways to build it. 
Print out a calendar and pencil in ideas, set up a spreadsheet in Google Sheets, or use one of the amazing apps available such as Trello, which has a free version.
Track The Following 
As you build your calendar keep in mind that you'll need to track the following;
Publish date

Topic

Headline

Author and Owner (if they're different)

Status of the post: idea, in process, needs editing, published, etc.

Platform it will be published on and format if you publish more than text posts

How you will distribute it, i.e., publishing but also sharing it after it's published

Any visual elements you will need or want for it

SEO, keywords, and hashtags

URLs as you find them

Any

Call To Action

prompts you will use
Now What?
Once your calendar is set you are ready to get writing! 
I usually plan my editorial calendar six months out. I add to it as inspiration hits me, and then every three months I sit down for an hour and organize it to make sense again. 
Having an organized editorial calendar will help you stay consistent. And it will give you more time to research and write! 
If you want to know more, or find templates and ideas check out Hubspot, Content Marketing, and CoSchedule.
Happy writing! 
***
ABOUT THE AUTHOR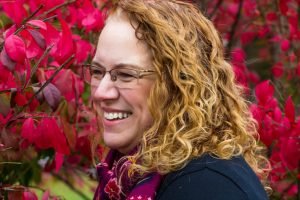 Willow Woodford lives in her imagination, because it's more interesting than the real world. When she isn't dreaming up new stories, she likes to cook, hike, and cuddle with her chihuahua. She reads voraciously, staying up far too late, and reading anywhere she can, including grocery lines, parking lots, and waiting rooms.
Her real-world counterpart, Ann Shannon, lives in New Jersey with her family and spends as much time as possible visiting her grandchildren on the west coast. 
Chat and follow Willow on Twitter: https://twitter.com/WillowWoodford.