Just Write the Right Words by Nevada McPherson
Let's welcome back monthly columnist Nevada McPherson as she shares with us "Just Write the Right Words." Enjoy!
***
For NaNoWriMo this month, I'm having to get very specific in words about what until recently I've only been seeing as pictures in my mind. 
I have to admit I'm a little intimidated about capturing some of those pictures I've envisioned into words, but I'm even more excited about the prospect of spilling it all onto the page in order to breathe actual life into it, imperfect as it may be. 
The Right Words on the Page 
As rich as the story sometimes seems to be in my mind's eye, I think back to something my first creative writing professor told the class about the importance of writing it all down: because it "isn't worth a damn" to anybody if it stays inside your head. 
True? Yes, because as entertaining as it may seem to you, without the blood, sweat and tears of transforming it from thoughts into words, in order to create pictures in others' minds, it's nothing more than your own personal daydream. 
Nothing wrong with that if you don't want to share it, but if you do—well, you know what's next. 
Besides the emphasis on words, a great thing about NaNoWriMo is that it gives you a chance, along with encouragement and permission, to put writing on the front burner of your life: to commit, to be disciplined, and to establish a daily writing habit in order to write your own story. 
The Right Words for Your Characters 
I've known some of the characters in my story longer than others and ironically, the ones I've known the longest are the ones I'm finding I need to do the most soul-searching about. 
They have their own history and complicated backgrounds, but I'm having to go back and do some heavy lifting to work out motivation and what makes them tick on a deeper level than I had to do before. 
The characters that have come to me more recently have been more complete, perhaps in anticipation of my exploring them in a novel. The ones I've known longer perhaps I've really only known on a more surface level, and now they are requiring me to dig deeper. 
I'm grateful for this opportunity and look forward to the things I'll discover about them, like finding out some new piece of fascinating information about an old friend, something that makes you appreciate them even more. 
If You're Not Doing NaNoWriMo…
Can you do all this without participating in NaNoWriMo? Of course you can! 
For some of us it just helps us to re-set our priorities, or rather, re-establish the place that writing should hold in our daily lives. 
This is only my second year participating, and I simply like the idea that when December arrives, I'll have some raw material to shape into something more complete. 
Since my interests are broad and wide-ranging, even as far as my writing projects are concerned, it forces me to focus like a laser on aspects of these specific characters and this specific story that I might not otherwise, and that I must learn to if I'm ever to grow as a writer. 
NaNoWriMo forces me out of my comfort zone and makes me scale new mountains: the steep, rocky ones of my own imagination.   
Happy Writing!
***
ABOUT THE AUTHOR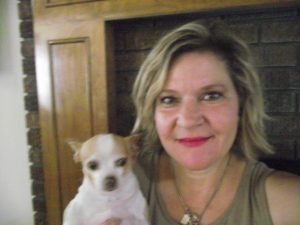 Originally from Georgia, Nevada McPherson lived in uptown New Orleans for many years and now lives with her husband Bill and rescue Chihuahua, Mitzi in Milledgeville, GA where she is a professor of Humanities at Georgia Military College. Nevada received a BA in English/ Creative Writing and an MFA in Screenwriting from Louisiana State University-Baton Rouge. She's written over a dozen feature-length screenplays, one short screenplay, a short play, short stories and two graphic novels, Uptowners and Piano Lessons. Queensgate, the sequel to Uptowners, is her third graphic novel. For more information, visit www.nevada-mcpherson.com.