How Do You Choose the Best Storytelling Structure For Your Story for Memoir Writers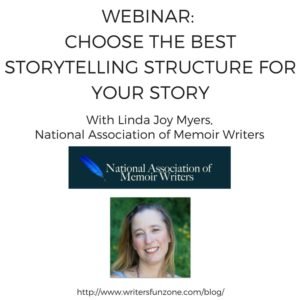 Beth Barany will be teaching a member-only webinar to the National Association of Memoir Writers on Friday, May 12, 2017, 11 AM PDT | 12 PM MDT | 1 PM CDT | 2 PM EDT.
How to choose the right structure for your story is a question that haunts most writers. Especially intuitive writers — pantsers — who tend to write organically.
Why does a story's structure make writing it easier…or harder? When you find a storytelling structure that resonates with the kind of story you want to tell, the right structure stimulates your imagination.
Choosing the wrong structure can cause you to get stuck—because the structure works against you as you're telling the story. You might mistake it for writer's block. And spend weeks…or months…being stuck.
(Story structure is NOT plot. But story structure gives rise to plot.)
Join us for this NAMW webinar where we discuss "How to Choose Your Story's Structure."
In this webinar, you'll learn the ins and outs of five powerful storytelling structures:
The Three-Act Structure
The Hero's Journey
The Virgin Archetypal Journey
The 5-Point Plot Structure
The Five Commandments of Storytelling
We'll also discuss:
what kinds of stories each structure lends itself to
how each structure is related to the other four, and
how "obligatory scenes" fit into these structures. If you've tried to plot according to a traditional story structure but it hasn't worked…
If your stories feel "off" but you can't put your finger on why…
If you've been confused by the Hero's Journey or three-act structure in the past…
…don't miss out on this chance to master five powerful storytelling structures and take your stories to the next level!
Join NAMW here to participate in this webinar.
---
ABOUT BETH BARANY
Beth Barany is a certified creativity coach, NLP Practitioner, and keynote speaker. She helps fiction writers get their writing done and out into the world via Barany School of Fiction and the Writer's Fun Zone blog. She's the bestselling author of The Writer's Adventure Guide and Overcome Writer's Block. Her most recent book for writers is Twitter For Authors.
Beth writes young adult fantasy and paranormal romance. Her young adult epic fantasy novel, Henrietta The Dragon Slayer, now the first book in a trilogy, won the Grand Prize in the 2012 California Book Fiction Challenge. Check out her free 5-day Writer's Motivation mini-course: http://bethbarany.com/5daycourse.htm.