Perfect Partners Aren't So Hard to Find by Jami Gray
Today we welcome a new guest writer to Writer's Fun Zone, Jami Gray who is stopping by to chat with us today about "Perfect partners aren't so hard to find."  Enjoy!
***
I know, I know, there is no such thing as a "perfect partner" unless of course you exist in the written pages of all those books we devour like popcorn.  And let's be honest, if we did live in those pages, we'd all have curves to die for, a kick-ass attitude that would make men swoon at our feet, or for those male readers out there — a chiseled chest to cradle all those females falling under our Alpha-with-a-soft-spot spell.
Since I'm not only an avid reader, but a writer, I find myself pondering such lofty concepts as, could a perfect partner exist outside the written page?
Character motivation is a huge thing for any writer, and whether they realize it or not, it's just as big for readers.  If your characters aren't motivated by situations/concepts a reader can relate to, they won't become "real", drawing your reader into your world.
Although Urban Fantasy is my first love, I read a great deal of romance, mainly ones heavily doused with paranormal elements and overtones of military suspense.  The main male in these stories is your Alpha male. You know the one, he looks like a cross between Bradley Cooper and Hugh Jackman, with bits of Bruce Willis and Ryan Reynolds thrown in.  He'll make more than your mouth water and under that "I need no one" exterior, beats the heart every woman wants to protect. The perfect male hero, right?
Unfortunately we don't live in the world that exists between the cover page and the back cover.
In reality, partnerships are a bit more complex and finding the "perfect" partner?  Yeah, well … it can be a journey Don Quixote would envy. However, I've come to the conclusion that the "perfect" partner depends on you, the other partner.
Now, I can't (and won't) speak for every writer out there, but one of our biggest supporters tend to be our spouses.  That doesn't mean they read everything we write, then arrange ticker tape parades lauding our greatness.  Are you kidding me? I've been best buds with my hubby since high school, and married for seventeen years, but has he ever read my work? Um, yeah, that would be a resounding "No".
Okay settle down, I can hear your chorus of groans and righteous indignation, but here's the thing…I'm not complaining. Really, I'm okay with that.  He's still my "perfect" partner.
Here's why.  He's the reason I picked up my pen and began writing again after the birth of our boys.  He knew how much writing meant to me, so he made sure to push me kicking and screaming out of the house one night a week and meet with a group of strangers to re-spark my creative flame.  Then when I realized that writing group wasn't going to get me where I wanted to go, he shoved me out the door refusing to let me return until I found another critique group.  Then he stepped in, herded the boys with the lure of pizza, until my group nights became sacrosanct. Over the years, he ensured that I got one full day a week to go write. By myself.  Every time I get another rejection, he's right next to me, making sure I send out two more queries, bust through that writer's block, and keep writing.
So my perfect partner is…a techno geek, six foot, dark haired male of total awesomeness, who completely gets that the kitchen is just for looks, doesn't mind playing a few hours of Halo with the boys so they'll leave me alone, and has no problem talking through how to get rid of a body or exactly what caliber is needed to take down a demon.  What more could I ask for?
Share the best part of your perfect partner—can he cook like Gordon Ramsey or can he recite the Periodic Table of Elements like Sheldon?  Tell us why your best bud is perfect for you!
Pick up SHADOW'S EDGE for FREE for a limited time and dive into the shadows of the Kyn.
***
ABOUT THE AUTHOR: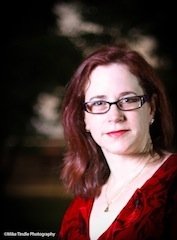 Jami Gray is the award winning, multi-published author of the Urban Fantasy series, The Kyn Kronicles, and the Paranormal Romantic Suspense series, PSY-IV Teams. She can be soothed with coffee and chocolate. Surrounded by Star Wars obsessed males and two female labs moonlighting as the Fur Minxes, she escapes by playing with the voices in her head.
You can find me at:
Black Opal Books:    www.BlackOpalBooks.com
Muse It Up Publishing:  http://museituppublishing.com
Website:     www.JamiGray.com
Facebook:  https://www.facebook.com/jamigray.author
Facebook Author Page:  https://www.facebook.com/JamiGrayUFWriter
Twitter:   https://twitter.com/JamiGrayAuthor 
Goodreads: http://www.goodreads.com/JamiGray 
Google+:  https://google.com/+JamiGray
Amazon Author Page: http://amzn.com/e/B006HU3HJI
Newsletter: http://eepurl.com/LvoZn 
Pinterest: http://www.pinterest.com/jamigrayauthor/
---
THE KYN KRONICLES (Urban Fantasy series w/Black Opal Books)
 WRAPPED IN SHADOWS, Kyn Kronicles .5
(Things That Go Bump For The Holidays Anthology)
The magic of the holidays can be hell…
Celebrations abound during the holidays, but this Christmas an engagement celebration goes horrifically wrong.  What appears to be a simple murder/suicide hides a vicious surprise. The type of gift Raine and Gavin, elite member of the Kyn, didn't want humans to unwrap, because revealing the monsters in the shadows isn't the way to spread holiday cheer.
SHADOW'S EDGE, Kyn Kronicles #1
Everyone fears what hunts in the shadows—especially the monsters…
 When the supernatural lurks in the shadows of the mundane, hunting monsters requires unique skills, like those of Raine McCord. A series of deaths threatens to reveal the Kyn community and forces her to partner with the sexy Gavin Durand.
As the trail leads to the foundation haunting Raine's childhood, she and Gavin must unravel lies and betrayals to discover not only each other, but the emerging threat to them and the entire magical community.
SHADOW'S SOUL, Kyn Kronicles #2
Some nightmares are born of love…
A simple assignment turns into a nightmare when Raine McCord follows Cheveyo to the Southwest on a consulting gig. When the most feared beings of the Kyn kidnaps Cheveyo and leaves Raine for dead, her ability to heal her mind and spirit hinges on the one man who can touch her soul, Gavin Durand.
Unraveling the Southwest Kyn's web of secrets and hidden vendettas will either bring them together or tear them apart forever.
SHADOW'S MOON, Kyn Kronicles #3
Even wild hearts can be broken…
Tracker, Xander Cade, confronts an enraged Shifter in a crowded human nightclub, fraying the thin secrecy shielding the supernatural community from public scrutiny. Danger stalks the pack and she must protect her alpha and mate, Warrick Vidis, even if he doesn't want it.
If they don't find a way to trust each other and accept their rare bond they risk losing everything-their pack, their friends and each other.
SHADOW'S CURSE, Kyn Kronicles #4
Death and chaos can devastate even the best-laid plans…
After tragedy strikes the Northwest Kyn, leaving the houses in chaos and the Wraiths hungry for blood, the fallout threatens Natasha Bertoi's carefully laid plans. When the Council sends Darius Abazi, the one man guaranteed to skew the odds, she faces her toughest opponent yet.
As death stalks the Northwest Kyn, can Natasha trust Darius, a man well versed in subterfuge, to uncover the truth before treachery destroys them all?
Coming Fall 2015:

A collection of Kyn shorts, including WRAPPED IN SHADOWS
PSY-IV Teams (Paranormal Romantic Suspense series w/MuseIt Up Publishing)
HUNTED BY THE PAST, PSY-IV Teams #1
Sometimes death is the only way to out run the past…
Changing the past is impossible, a fact ex-marine, Cynthia Arden, understands all too well. Struggling with the aftermath of a botched mission, a panicked phone call brings her home to face a killer's game. Unfortunately, the distracting Kayden Shaw returns as well, the one man she thought would stand by her, until he chose his job over her.
To survive, will Cyn risk her heart or lose the man she loves and her life?
 Coming Spring 2016:
TOUCHED BY FATE, PSY-IV Teams #2
Trusting him with her secrets is dangerous. Trusting him with her heart could be fatal.
 As a specialized consultant for the Department of Defense, Risia Lacoste understands the bargaining chip of a well-kept secret. When her current assignment threatens to unearth her deeply buried skeletons, she's forced into a high-stakes game of lies and loyalty where even her ability to foresee the future can't predict the winner.
Darkness lies under the skin of every man, and PSY-IV Team operative and touch empath, Tag Gunderson, has the demons to prove it. Scarred by betrayal and disillusionment, he's not Risia's top pick for a partner in the game, but he's all she's got.
As the game draws them deeper into a pit of intrigue and their list of enemies grow, will Risia trust Tag with more than her secrets or will his demons destroy them both?
You can find all the buy links for both The Kyn Kronicles and PSY-IV Teams, in all formats at: 
http://jamigray.com/kynkronicles/ 
http://jamigray.com/psyivteams/ 
THE KYN KRONICLES:
THINGS THAT GO BUMP FOR THE HOLIDAYS (Wrapped in Shadows .5 Kyn Kronicles)
Amazon:  http://amzn.com/1626940908
Nook:  http://www.barnesandnoble.com/w/things-that-go-bump-for-the-holidays-black-opal-books/1117680975?ean=2940148940685
Smashwords:  https://www.smashwords.com/books/view/387518
Black Opal Books:  http://www.blackopalbooks.com/anthology/things-that-go-bump 
Shadow's Edge: Bk 1 of Kyn Kronicles
Amazon: http://www.amazon.com/dp/B0061CAXJ4
ARe: https://www.allromanceebooks.com/product-shadow039sedgethekynkroniclesbook1-625433-139.html
Black Opal Books: http://www.blackopalbooks.com/shop-our-store/authors/jami-gray
Smashwords:  https://www.smashwords.com/books/view/101023
iBooks: https://itunes.apple.com/us/book/shadows-edge-kyn-kronicles/id482595056?mt=11
Kobo: http://store.kobobooks.com/en-US/ebook/shadow-s-edge-the-kyn-kronicles-book-1
Scribd.: https://www.scribd.com/book/235371403/Shadow-s-Edge-The-Kyn-Kronicles-Book-1
Google Play: https://play.google.com/store/books/details/Jami_Gray_Shadow_s_Edge?id=ubxyAgAAQBAJ
Shadow's Soul:Bk 2 of the Kyn Kronicles 
Black Opal Books: http://www.blackopalbooks.com/shop-our-store/authors/jami-gray
Amazon:  http://amzn.com/B008DIZ9OI
ARe: https://www.allromanceebooks.com/product-shadow039ssoulthekynkroniclesbook2-848561-139.html
Nook: http://www.barnesandnoble.com/w/shadows-soul-the-kyn-kronicles-book-2-jami-gray/1111742135?ean=2940014698955
Smashwords: https://www.smashwords.com/books/view/174291
iBooks: https://itunes.apple.com/us/book/shadows-soul-kyn-kronicles/id541827836?mt=11
Kobo:  http://store.kobobooks.com/en-US/ebook/shadow-s-soul-the-kyn-kronicles-book-2-1
Scribd.: https://www.scribd.com/book/235371430/Shadow-s-Soul-the-Kyn-Kronicles-Book-2 
Google Play: https://play.google.com/store/books/details/Jami_Gray_Shadow_s_Soul?id=nb9yAgAAQBAJ
Shadow's Moon: Bk 3 of the Kyn Kronicles
Amazon:  http://amzn.com/B00K8AZZES
Barnes & Noble:  http://www.barnesandnoble.com/w/shadows-moon-the-kyn-kronicles-book-3-jami-gray/1119462166?ean=2940149437719
Black Opal Books: http://www.blackopalbooks.com/shop-our-store/authors/jami-gray
Smashwords:  https://www.smashwords.com/books/view/435674
ARe:  https://www.allromanceebooks.com/product-shadow039smoonthekynkroniclesbook3-1507186-140.html
iBooks:  https://itunes.apple.com/us/book/shadows-moon-kyn-kronicles/id875444016?mt=11
Kobo http://store.kobobooks.com/en-US/ebook/shadow-s-moon
Scribd.: https://www.scribd.com/book/233279819/Shadow-s-Moon-The-Kyn-Kronicles-Book-3 
Google Play: https://play.google.com/store/books/details/Jami_Gray_Shadow_s_Moon?id=npODAwAAQBAJ
Shadow's Curse: Bk 4 of the Kyn Kronicles 
Amazon:  http://amzn.com/B00RLE3PZU
Barnes & Noble:  http://www.barnesandnoble.com/w/shadows-curse-jami-gray/1121072005?ean=9781626942202

Black Opal Books:  http://www.blackopalbooks.com/shop-our-store/authors/jami-gray
iBooks:  https://itunes.apple.com/us/book/shadows-curse-kyn-kronicles/id954894551?mt=11
Smashwords: https://www.smashwords.com/books/view/505822
KOBO: http://store.kobobooks.com/en-US/ebook/shadow-s-curse-the-kyn-kronicles-book-4
ARe: https://www.allromanceebooks.com/product-shadow039sedgethekynkroniclesbook1-625433-140.html
Scribd: https://www.scribd.com/book/253090806/Shadow-s-Curse-The-Kyn-Kronicles-Book-4
THE PSY-IV TEAMS:
Hunted by the Past: Bk 1 of PSY-IV Teams
MuseItUp Publishing:  https://museituppublishing.com/bookstore/index.php/our-authors/57-our-authors/authors-g/445-jami-gray
Amazon:  http://amzn.com/B00M289FTA
Smashwords:  https://www.smashwords.com/books/view/449240
Barnes & Noble:  http://www.barnesandnoble.com/w/books/1119776913?ean=9781771275538&itm=1&usri=9781771275538
iBooks:  https://itunes.apple.com/us/book/id890554328
ARe: https://www.omnilit.com/product-huntedbythepast-1553419-143.html
Kobo:  http://store.kobobooks.com/en-us/books/Hunted-by-the-Past/PsOHi6QaXUSjCDITW_cZ-A?MixID=PsOHi6QaXUSjCDITW_cZ-A&PageNumber=1&MixID=PsOHi6QaXUSjCDITW_cZ-A&PageNumber=1
Google Play: https://play.google.com/store/books/details/Jami_Gray_Hunted_by_the_Past?id=u1nOBAAAQBAJ