Time To Update Your Resume by Annmarie Miles
Join me as we welcome back monthly columnist Annmarie Miles this month as she shares her tips with us on "Time To Update Your Resume?" Enjoy!
***
For ages I've been thinking about putting together a writing CV. More so for myself than anyone else. Just to see at a glance the different things I've achieved, or even attempted.
I wasn't really sure what to do, so I just started making a list. Places I've written for, events I've read at, my published stuff, training I been involved in as both participant and facilitator. Connections I've made etc
You know when I put it all together it didn't look too shabby 🙂
My book is not a best-seller by any means, I don't have hundreds of thousands of followers on blogs or Twitter, and I am not adorned with prizes – although I haven't done too badly this year 🙂 In the great scheme of things I'm a teeny weeny fish in a world awash with writing.
What I have done this year is taken more opportunities. Last year I would have said 'no' a lot. Too embarrassed to put myself forward, worried that people might think. I'm sure I've mentioned here before, the only one giving negative vibes is me; others are always really supportive.
So this year I ignored the inner voices and entered competitions, submitted to journals, wrote stories I didn't know how to write, and agreed to do things I wasn't 100% sure I could do. I'm not an advocate of 'fake it til you make it'; but I took the advice of Richard Branson, who says, "If somebody offers you an amazing opportunity but you are not sure you can do it, say yes – then learn how to do it later!" Some things worked better than others. I learned a whole lot about myself, my strengths, my weaknesses, things that energise me and things that drain me.
When I started writing fiction just over 2 years ago I never imagined I'd have any reason to put a 'writing resumé' together. There are some changes coming in the near future (more on that next month), so I collected all my experience, opportunities and successes and put my CV together.
I'd encourage you to make a list of all you've done. Have you published on a website? Written a guest blog post? Did you speak a writer's meeting? Read at a literary event? Have you helped with events at the library? Have you won an award? Have you been published in a journal, newspaper or magazine?
Maybe when you do put it together, it does look a bit thin. Well then it's time to fatten it up. So what can you do? Here are some suggestions…
Do you celebrate 'Culture Night'? All around the world Irish culture will be celebrated on September 19th. Is there a similar cultural themed event for your country. Of course if you have any claim to Irish heritage you can join in on the 19th 🙂
Enter a short story competition. There are so many of them. Google is your friend here. Some of them have a small fee, but many are free to enter
Does your local radio station have a culture slot? Offer to go in and talk about what you're working on. Most programmes will be delighted to feature new people
Does your local or regional newspaper have a writer or poet's corner? Submit something
Go to your local library and see if there is a writing or reading group you can help with. If there isn't one, suggest starting one
Go to an arts festival and blog/live tweet some of the events. I made great contacts doing that this year. I even got a press pass!
It's too early to mention the 'C' word (although there are chocolate Santas in the shops already!) – but it's a great time for seasonal themed events and competitions, so be on the look out.
Do a guest post on another blog. I love having guests on my blog – so give me a shout if you're looking for an opportunity. Happy to return the favour too.
I challenge you to do 4 things this autumn to help increase the info on your writer's resumé. That's just one each month. If you were to continue that beyond the end of the year you'd have a bulging writing resumé very soon.
Celebrate your successes; and if you feel you don't have any, go out there and get some 🙂
ABOUT THE AUTHOR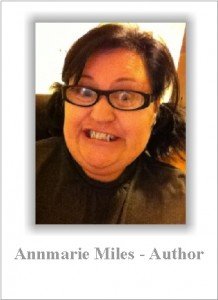 Annmarie Miles, part time writer, full time believer is 40something, Irish, Christian, married, and proud to be all of those things. She loves words, music & chocolate! You can find out all about her and her book "The Long & The Short of It" at the new website:www.annmariemiles.com.

Where to find Annmarie:
Email: amowriting@gmail.com
Facebook page:https://www.facebook.com/amowriting
Google+: auntyamo
Twitter: @amowriting
Personal Blog: www.auntyamo.com
Writing Blog: www.annmariemiles.com/blog
---
Annmarie Miles is a Writer's Fun Zone columnist. If you'd like to be one too, check out the writer's guidelines here. We welcome your query.