0
Making changes to your story, while you're writing it, can seem overwhelming and frustrating unless you're prepared for them.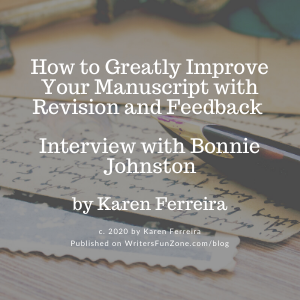 0
Discover how to greatly improve your manuscript with revision and feedback with these step-by-step tips in this interview with writing teacher Bonnie Johnston by Karen Ferreira.
3
Arguably, the most popular episode of the 1950's sitcom "I Love Lucy" was the episode "Job Switching" in which friends Lucy and Ethel took a job in a candy factory. In that episode's celebrated scene, they had to hand wrap individual chocolates moving along a conveyor belt into a packing room. They were able to keep up until the belt sped up resulting in a hilarious scramble to prevent any unwrapped candies from getting by.