Create a Space That Fosters Productivity and Relaxation by Lucy Reed
Let's welcome back Lucy Reed as she shares with us "Create a Space That Fosters Productivity and Relaxation." Enjoy!
***
Your home should be your haven where you can relax, feel comfortable, and start focusing on your writing after a long day, whether you work remotely or in another location.
But for many, homes have become little more than places to crash after work. If your home isn't feeling like the refuge it should be, it might be time to make some changes. Here are some ideas from creativity coach  Beth Barany that you can implement right now.
Bring More Natural Light Into Your Home
One of the best ways to improve the look and feel of your home is to bring in more natural light.
You can do this in a few different ways, and the best approach varies depending on the layout of your house and the amount of sun exposure it gets.
One option is to open your curtains or blinds during the daytime. This allows sunlight to enter the room, making it feel brighter and more welcoming.
Another option is to install reflective materials on surfaces facing the windows, such as painting your walls white, hanging mirrors, or placing metal accents.
These tips can also be useful for improving your home office so you can focus on your writing.
You should also be sure to invest in solutions for keeping yourself organized. 
Ergonomic furniture is a must as well.
Install Pendant Lights
Further, improve the lighting in your home by installing a decorative pendant light.
These lights are ideal if your home has high ceilings, as you can lower the lights to a more manageable level.
Plus, pendant lights are excellent additions if you want to add light to a small space, such as a kitchen island or a dining area.
As pendant lights come in a range of shapes, styles, materials, and finishes, do some research before purchasing.
Embrace the Power of Plants
While many people consider plants to be simply decorative elements, growing evidence indicates they can also positively impact your health and well-being.
Studies have shown that interacting with plants can help reduce stress levels, lower blood pressure, and boost mood.
The plants below all have useful benefits:
Peppermint lowers frustration and boosts alertness
Chamomile reduces anxiety and aids sleep
Lavender helps with anxiety and depression
Jasmine helps with anxiety and aids sleep
Aloe vera removes harmful chemicals from the air
If you're feeling creative and a little handy, you can try to repurpose old items from thrift stores into creative indoor pots for your plants.
Look for items that speak to your interests, from books to fantasy or gothic literatures and beyond!
Then, click here to learn some basic welding or soldering techniques to give them the right finishing touches.
Add a Bookcase (or Five!)

As a writer, you likely have a bookcase or two.
But did you know that they can be a great addition to your home for both practical and relaxation purposes?
They provide a place to store your books, which can cut down on clutter, and offer a way to display your favorite titles.
Bookcases can also add a decorative touch to your home and come in various styles to match any decor.
When choosing a bookcase for your home, consider the size of the available space and the number of books you own or plan to purchase.
Creating an Oasis in Your Backyard

An outdoor kitchen is perfect for turning your backyard into an oasis.
The kitchens have everything you need, such as a grill, range hood, sink, and refrigerator.
Whether hosting a summer cookout or enjoying a quiet evening at home, an outdoor kitchen allows you to enjoy the best of both worlds.
Find a New Space that Fits Your Needs
If you simply can't make your current home fit your creative and functional needs, then consider relocating.
Check out the current housing market statistics in your area to see if it's possible to purchase a home.
If not, renting can be a great option, too.
In fact, you might get a much larger place for less money, so don't limit yourself when you're hunting for the right space for your current situation.
A Place of Work and Relaxation
Making small changes in your home can have a significant impact on your daily life.
Adding more natural light, embracing the power of plants, and creating an outdoor oasis can make your home a place of work and relaxation.
If your creative juices don't seem to be flowing like they used to, contact Beth Barany. She is a creativity coach for writers and she can help you move past your writer's block. 
***
ABOUT THE AUTHOR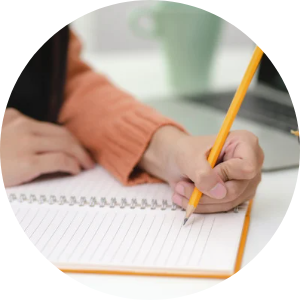 Lucy Reed has been starting businesses since she was a kid, from the lemonade stand she opened in her parent's driveway at age 10 to the dog walking business she started while in college. She created Gig Mine because she was inspired by the growth of the sharing economy and wanted to make it easier for entrepreneurial individuals like herself to find gig opportunities in their areas.