Your Orientation toward Time and Why I Write Science Fiction, Conversation with Melissa Clark-Reynolds
"I've seen so many different stories use science fiction to explore where we are today. And, there's something always very surprising about them. I just really enjoy them."
In this episode, "Your Orientation toward Time and Why I Write Science Fiction, Conversation with Melissa Clark-Reynolds," host Beth Barany, creativity coach, and science fiction and fantasy novelist, continues her conversation with Melissa as they discuss what fascinates Beth in writing science fiction including the setting of her Janey McCallister Mystery series and share their results from Mind Time's survey, inviting listeners to do the same.
Platforms the podcast is available on Apple Podcasts | Google Podcasts | Buzzsprout | Spotify | Podcast Addict | Amazon Podcasts | Youtube
Now on YouTube!
How To Write the Future is now on Youtube, for the full playlist go here:
https://youtube.com/playlist?list=PLFt3x70-_d9Kywxz7uK1dvLmyKjJDi99C
RESOURCES 
Free World Building Workbook for Fiction Writers:
https://writersfunzone.com/blog/world-building-resources/
Mind Time Survey
https://mindtime.com/mindtime-thinking-style-survey/
Back casting discussed in Ep. 31: "Tips for Writing Into The Future: Interview with Foresight Practitioner, Melissa Clark"
https://writersfunzone.com/blog/2023/02/06/tips-for-writing-into-the-future-interview-with-foresight-practitioner-melissa-clark/
New Scientist Weekly: #159 Aboriginal stories describe ancient climate change and sea level rise in Australia on Apple Podcasts
https://podcasts.apple.com/us/podcast/new-scientist-weekly/id1496847791?i=1000594531152
Editor's Note: Not the "overlook perspective" but the "overview effect". Coined by Frank White. See, The Overview Effect: Space Exploration and Human Evolution by Frank White https://www.goodreads.com/book/show/1591985.The_Overview_Effect
SHOW NOTES 
About Melissa Clark-Reynolds
Melissa Clark-Reynolds ONZM, ChMInstD became a Foresight Practitioner and Professional Director after 30 years experience as a technology entrepreneur and CEO of a number of Technology companies. She sits on the Boards of Atkins Ranch, Alpine Energy Network, Daffodil Enterprises Ltd and the NZ Future Bees Trust.  Melissa was previously Chair of Little Yellow Bird, Deputy Chair of Radio NZ, the first independent Director of Beef & Lamb NZ and a Member of MPI's Primary Growth Partnership Investment Advisory Panel. Melissa has been part of the Te Hono Primary Sector Bootcamp at Stanford University, twice. She trained as a Foresight Practitioner with The Institute for the Future in Palo Alto and also with Clayton Christiansen in his approach to Disruptive Innovation through Harvard. She has also trained with Futurist Sohail Inayutollah in his approach to corporate narrative and content level analysis.
Melissa works with companies like AsureQuality, Kotahi, Lincoln University, the NZ Screen Sector, and BiosecurityNZ on Strategy and Foresight. Melissa has a particular interest in Platform and Subscription Business Models. She developed and teaches courses in Strategy, Digital Governance and Disruptive Business Models for the NZ Institute of Directors.
https://futurecentre.nz/
https://twitter.com/HoneyBeeGeek
https://www.linkedin.com/in/melissaclarkr/
ABOUT THE HOW TO WRITE THE FUTURE PODCAST
The How To Write The Future podcast is for science fiction and fantasy writers who want to write positive futures and successfully bring those stories out into the marketplace. Hosted by Beth Barany, science fiction novelist and creativity coach for writers.
Tips for fiction writers!
This podcast is for you if you have questions like:
How do I create a believable world for my science fiction story?
How do figure what's not working if my story feels flat?
How do I make my story more interesting and alive?
This podcast is for readers too if you're at all curious about the future of humanity.
TRANSCRIPT for Your Orientation toward Time and Why I Write Science Fiction, Conversation with Melissa Clark-Reynolds 
Are you looking for a way to dig into your world building for your story? Then I recommend that you check out my World Building Workbook for Fiction Writers. Now available. It's at How To Write The Future.com. Just head on over there. Click, sign up. Put your name and email, and there you go. That workbook will be delivered to your inbox straight away.
Hey everyone, Beth. Barany here with How To Write The Future podcast.
What is How To Write the Future podcast 
This is a podcast that offers tips and support for science fiction and fantasy writers, and actually writers of all kinds who want to create positive, optimistic futures.
Because I believe when we vision what is possible and we put that into our fiction, we actually help make it happen in the world because our readers read them, feel it, and it can change their outlook.
And when your outlook changes, you can change how you operate in the world, how you behave, and how you think.
I am a science fiction and fantasy author and writing coach and consultant. I work with individuals and organizations to help bring stories to life.
Intro for this podcast
In previous episodes of how to write the future. I mostly shared my thoughts on various topics helping fiction writers to build their worlds and edit and market.
Now going forward, I am doing interview episodes where I will be talking to futurists, foresight practitioners, subject matter experts, and other people who can help us as fiction writers build better stories.
Today is part two of my interview conversation with Melissa Clark-Reynolds. Melissa works as a futurist foresight practitioner. She's particularly interested in the future of food and agriculture and climate. She also has a particular interest in pandemics, human and animal. She studied a mixture of anthropology, epidemiology, and environmental planning, and has spent almost 30 years in software development. A whole lot of it thinking about predictive analytics and how we might use software to analyze both pandemics and water pollution and other kinds of pollution. So she has a background in tech and quite an eclectic brain.
Melissa and I met at a Futures course in the UK last summer offered by the School of International Futures. She currently lives in New Zealand. She has a very impressive CV that you can read in the show notes.
And I know her as a friend, very insightful, very smart and very warm. Today, I'm excited to bring with you our conversation on time, and she asked me why I love writing science fiction.
Enjoy the show.
Melissa Clark-Reynolds
One of the cool things we did on that course was we did this time mind analysis where you look at your personality and you see whether you are more likely to be someone who spends their time thinking about the past more or whether they experience their life in the present more, or they experience their life in the future more.
And it was of no great surprise to me that my orientation was to the future.
Beth Barany
Mm-hmm.
Melissa Clark-Reynolds
And I think I've always been like that as an entrepreneur in software I've always been wanting to create things that didn't exist.
Beth Barany
Mm-hmm.
Melissa Clark-Reynolds
and a lot of it has been to help to model the future.
Beth Barany
I'm curious for the mind time thing, if you also scored for any present time or past or all of the orientation.
Melissa Clark-Reynolds
I had all of them. And I think in a funny way,  well, the thing that surprised me probably was that I was future first past second, present third. And I think that kind of makes sense to me because quite a bit of working as a futurist is what I call looking back to go look forward.
So this idea of being very analytical about the past in order to understand patterns particularly, what's useful with the math that I've done and the anthropology is they're both pattern recognition kind of sciences, I guess you could call them, or methodologies.
Beth Barany
Yeah
Melissa Clark Reynolds
And so I think that we understand the future partially by looking at the past.
Bill Gates really said it, but I like what he said, this idea that when we try to look forward two years, we massively overestimate the change that will happen in two years and we underestimate the change that will happen in 10.
Beth Barany 
Yeah
Melissa Clark-Reynolds
And one of the things I find useful is to look back 10 and you go, oh my God, so much has changed in that 10 years, you know?
Beth Barany
Yeah
Melissa Clark-Reynolds
What am I wearing?
Beth Barany
Mm-hmm
Melissa Clark-Reynolds
What do my devices do?
If I look in my backpack that I carry and I've carried a backpack for like 30 years, these days I carry so many devices in there, so I find that interesting.
Having said that, I probably carry two less than I did five years ago.
Beth Barany
Right, right
Melissa Clark Reynolds
So it's an interesting, just little things like that.
Did you have a landline in your home 10 years ago? We did not, but we were outliers 10 years ago, not having a landline. 10 years ago we'd already completely cut the cable.
In fact, we cut 20 years ago almost. Yeah. Yeah. And so my daughter is 22. We've only had a television in the house so that we can play PlayStation on it.
Beth Barany
Oh, wow
Melissa Clark-Reynolds
Haven't ever had the television hooked up to a service.
Beth Barany
Mm-hmm. Mm-hmm.
Melissa Clark-Reynolds
And so you think about those, what you might be an outlier of 10 years ago may well have become mainstream now.
So I think coming back to that question, I think that good futurists have got a good sense of the past as well. I don't know, where did you fit?
Beth Barany
It was fascinating. I again, wasn't surprised. I was oriented mostly toward the future and then secondarily towards the present. And then the third was the past.
I am fascinated by the past, the far past, and the more recent past, especially more like a hundred years plus in the past. And I find the recent history of the last 100 years often very overwhelming emotionally, frankly, so, it's just easier to look further back and  I'm fascinated by early human culture and all the new discoveries that seem to appear almost daily these days about that.
Melissa Clark-Reynolds
Yeah, same
Beth Barany
So, both as a novel writer, a fiction writer, and as a systems thinker, like how are humans evolving? I look into the hidden past. What are the things that we don't know? Or where are the gaps in our stories?
Where are the gaps in our knowledge? And also, how is it that human culture doesn't get passed on as much?
There are very few human cultures that really do a great job passing on stories from their ancestors. And actually, I heard a great interview recently with a woman who studies stories about the Aborigines of Australia and how they have carried on stories about the climate change from like 10,000 years ago.
Melissa Clark-Reynolds
Yeah
Beth Barany
And how they have their very protective of their storytellers. It was, mind-blowing and beautiful. And also so telling of all the disruption that happens in human culture where stories don't get passed on. Yet some things do like I'm mostly of Jewish descent.
There's certain stories that have continued for quite some time, and then others that are completely lost. The religion remains, whereas the specific stories of why my great-grandparents immigrated, I don't have, or my great-great-grandparents on the other side of the family. I don't have, I have little tiny tidbits, but yeah, I-I'm so focused on the future, but then I have a pretty strong grounding on the present, so I can be very practical about the present.
And I've had one other family member take the test, my husband, and notice he is super oriented towards the past, super oriented towards the future, and very minimally towards the present, which is where he fills in the gaps where I kind of compliment each other, especially with the past, in the present.
Melissa Clark-Reynolds
That's fascinating.
Beth Barany
Yeah. It's fascinating. And his future orientation isn't really grounded in the present. It's grounded in his imagination, as I see it. And, which is perfect cuz he's a writer too.
Melissa Clark-Reynolds
We should put a link in the show notes.
Beth Barany
Absolutely. Yeah
Melissa Clark-Reynolds
People could do the test if they want. It's free.
Beth Barany
It's free. It's such a simple test and a personal self-assessment, and it helps you. The way they describe the orientation that you have is also very insightful.
I hadn't heard it described in that way, and now I use it when I work with writers and noticing where they draw their inspiration, how they even think about the process of being creative. Yeah. It's, it's such a lovely lens.
Melissa Clark-Reynolds
I'm really curious as to why you set your fiction in the future.
Beth Barany
Oh my goodness. Uh well to be fair, I have two other series, one set in a fantasy world, like a medieval set fantasy world.
Melissa Clark-Reynolds
Oh yeah,
Beth Barany
And another set in contemporary times. So I'm actually all over the place.
Melissa Clark-Reynolds
Oh, uh, okay.
Beth Barany
But yes, now for the last six years I've been working on my science fiction.
Well, for one thing, I've always been fascinated by science fiction.
I've always been drawn to it and not really understanding why, except that I noticed as a child that science fiction would be doing things that no other fiction was doing.
Melissa Clark-Reynolds
Right
Beth Barany
They'd really be rearranging reality in some entirely different ways that I didn't see anywhere else. And so that, that was interesting to me.
And then number two, I am interested in science. I was pre-med for a very long time, from age six to age 19. So I was studying science every single year of school.
And I love to understand how things work. I've noticed I've always naturally thought about, well, what if it was this way or what if it was that way?
You know? So I didn't even know it, but I was basically thinking like an an engineer, an inventor, and I didn't have the engineering background so I didn't invent things except, well stories.
I invented stories. So I get to apply that and it makes me really, really happy to be able to be an inventor inside of storytelling, inside of, my science fiction.
And then also to be able to think about the future of humanity, which makes me excited.
And I am trying to work out humanity's evolution in the next 100 years, cuz my stories are set a hundred years from now.
And she's working on a cold case in this current book I'm working on that happened 70 years previous to her, which is our future. So I'm setting it in like, 2060 or something, that backstory, which
Melissa Clark-Reynolds
Right
Beth Barany
I get to think about a hundred years from now and like 40 years from now, and then I'm also doing, I'm doing backcasting. I'm setting myself a hundred years from now looking backwards.
What would need to have happened for the state of the world to exist as it does in the contemporary moment of my character's story?
And I have a lot of fun doing that. And I think at the same time, I'm also writing murder mysteries.
So that's a whole other like layer of storytelling that is not so charming and it's not so exciting, but it's just as intriguing to me.
People's bad behavior. How do those get solved?
How can I make up very difficult mysteries that my investigator has to solve, which involves things that we have to use today, things that we already use in problem solving and solving crime?
And I get to invent technology for crime solving as well, which is like five steps beyond what we have now.
And to that end, I actually have been studying the history of criminology and the history of forensics and
Melissa Clark-Reynolds
Oh, wow
Beth Barany
And finding it so fascinating and learning about who inspired Sherlock Holmes, and  that was a real person that Conan Doyle was inspired by.
Who were the early detectives, investigators? A lot of the French were far ahead of everyone else, what they were doing and all the specifics about that. And then also studying like what are the enduring aspects of crime solving that are gonna have to be in play no matter if your tech is working and if your tech isn't working?
Melissa Clark-Reynolds
Yeah, nice
Beth Barany
And so science fiction allows also for me to explore different cultures set at the same time, cuz I'm putting these space stations around the planet and beyond. And each one can set up their culture the way they want. And so I'm having fun playing with that because I want to explore human behavior, human systems, different structures. And what would happen if this is the favorite writer's tool is what if, you know, what would happen if X, Y, Z situation?
What if there was a space station much closer to the sun? How would the technology of that affect who the people were? And then there's a lot of factors in play that I'm thinking about. So,
Melissa Clark-Reynolds
Yeah, nice
Beth Barany
There's something, so, I don't know how to say, just alluring about science fiction.
And I've seen so many different stories use science fiction to explore obviously where we are today. And, there's something always very surprising about them. I just really enjoy it. And then just the romance, the adventure aspect of it. I could do it at any era, but I'm very future focused.
So, so I've said it with some advanced space travel and things like that, that
Melissa Clark-Reynolds
Nice
Beth Barany
Intrigue me. And I think the final component that is, that intrigues me for the kinds of stories I'm writing is I'm writing a lot of stories set around the planet Earth.
And so I'm thinking about Earth as a globe, and I'm thinking about all the different climatic changes that might happen and, I'm in love with planet Earth cuz I'm thinking about it all the time from this, um, what they call the overlook perspective.
You know what astronauts get to see, when you get to see the whole planet it and then just awe at. It's just amazing that we exist. And then you look out toward the stars, and, and you're like, wow, that's amazing too.
But we seem to be the only life forms that we know about. And so there's a certain preciousness too about what I'm creating. it, it gives me hope, and that's also why  I work on it.
Melissa Clark-Reynolds
Yeah. I love that. Thank you for that answer. And it reminds me of, Carl Sagan talking about the small blue planet. I was a tiny child when that first photo of earth from space was taken, and I think there's something about being born around that time.
I do believe that that photo of the small blue planet really changed the consciousness of how we see our planet. And so you see how small we are, how big the universe is.
Beth Barany
Mm-hmm. Yeah.
Melissa Clark-Reynolds
How precious that life on the planet really is. So, I just loved what you had to say there.
Beth Barany
Mm-hmm. Yeah. Yeah. That's so wonderful. Well, I know we might wanna wrap it up for this time.
Melissa Clark-Reynolds
Nice
Beth Barany
Thanks everyone for listening. Great. And, until next time.
You're Awesome – Thank you 
Thank you so much, everyone for listening to my podcast. Your interest and feedback is so inspiring to me and helps me know that I'm helping you in some small way.
So write long and prosper.
Are you stuck and overwhelmed by world building? Then…
Are you stuck and overwhelmed by world building? Then check out my new World-building Workbook for Fiction Writers. Head over to HowToWriteTheFuture.com and sign up for yours today.
***
Loved this episode? Leave us a review and rating here: https://www.buzzsprout.com/2012061
***
ABOUT BETH BARANY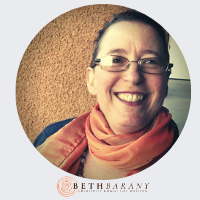 Beth Barany teaches science fiction and fantasy novelists how to write, edit, and publish their books as a coach, teacher, consultant, and developmental editor. She's an award-winning fantasy and science fiction novelist and runs the podcast, "How To Write The Future."
Learn more about Beth Barany at these sites: 
Author site /  Coaching site / School of Fiction / Writer's Fun Zone blog
CONNECT
Contact Beth: https://writersfunzone.com/blog/podcast/#tve-jump-185b4422580
Email: beth@bethbarany.com
LinkedIn: https://www.linkedin.com/in/bethbarany/
CREDITS
EDITED WITH DESCRIPT: https://www.descript.com?lmref=_w1WCA
MUSIC: Uppbeat.io
DISTRIBUTED BY BUZZSPROUT: https://www.buzzsprout.com/?referrer_id=1994465
SHOW PRODUCTION BY Beth Barany
SHOW NOTES by Kerry-Ann McDade
***
For more "How To Write the Future" episodes, go here.
If you'd like to invite Beth onto your podcast, drop her a note here.