Coming Soon: How to write a supercharged scene with J. Thorn
I've got something for you to check out.
Do you have an amazing idea for a novel but you struggle to get words on the page? Maybe the problem isn't writer's block. Maybe you need a writing process.
My friend J. Thorn has sold over 200,000 books worldwide.
His "Final Awakening" dark fantasy/post-apocalyptic series with Zach Bohannon has 3.8 million page reads on Amazon. But J. isn't just an author. He's an editor and writing coach with more than 23 years of teaching experience.
I've read Three Story Method and I can tell you that it's incredibly concise and has garnered hundreds of five-star reviews on Amazon. You can see them for yourself here.
Best of all, he's offered to teach us the essentials of the methodology, free!
I know you'll find it incredibly helpful. I can't wait to hear what you think!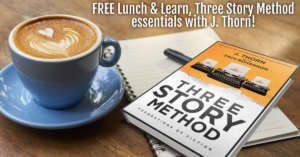 EVENT DETAILS
On Monday, Nov. 22 (2pm PT/5pm ET), J. will be sharing an exclusive live training to help you get started writing better scenes. I'll host. 🙂
Ready to save your spot?
Then you can sign up here.