OMG, I published my novel! The sweet and the challenging
Recently I finalized a novel and uploaded it to the vendors. Hurrah!
Lured By Light goes live Oct. 17th, though it's already up in print here and in ebook on Apple. (Oops!)
I found myself feeling a bit spacey and started cleaning my house – a good thing! But I also felt a bit lost.
Instead of wallowing in self-pity (okay, I went there for a sec), I paused, acknowledged my feelings, then asked myself something I use when I feel spacey and unmoored.
I ask, "What am I focused on?"
I realized that I needed some downtime – I just published my novel!
Then after that, I realized I was focused on worries and fears, like, "Will people like my book? Is it any good at all?"
On the upside, my beta readers liked the new novel and my critique partners had good things to say, too.
So now it is time for me to let the book find its way in the world – with my marketing help of course.
Since this is the second book I've published this year, I learned from the first one in the spring, I'm giving myself the month of October to not be editing Book 3. I intend to dabble, to play, to meander, and to replenish the creative well. If that involves some story backstory brainstorming, so be it.
I love the deep dive into my book but I also love and need this light, playful time.
When you find yourself unfocused, and may be down on yourself about that, ask yourself "What am I focused on?" and see what arises and have compassion for whatever it is.
How can you take care of your concerns and give yourself what you need?
Let me know how it goes!
Since it is the Plan Your Novel month in advance of November's National Novel Writing Month (NaNoWriMo) and in years past I've taught our course on that content, I'm finding other ways to share our novel planning tools.
If you'd like support around planning your novel, specifically for pantsers, check out the new book I just released:
7 Essential Keys to Planning Your Novel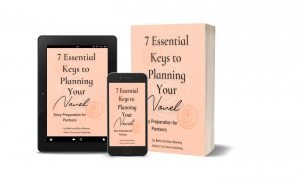 https://books2read.com/7essentialkeys
A short and sweet instruction booklet to help you plan your novel so you can write it with confidence, clarity, and compassion.
I have a big ask regarding this book!
I'd love reviews for this book. So if you'd like to review this 34-page book, just sign up here and I'll send you the link to download an ARC copy.
Sign up to review 7 Essential Keys to Planning Your Novel:
https://forms.gle/a2k2jhnQGF8h7eaN7
Upcoming Summit: Get Ready to Write Your Novel! Nanowrimo is coming!
Since I'm not teaching my own course this year, I decided to speak at the Escape the Plot Forest: The Online Plotting Summit that starts Oct. 22 — the online summit for plotting your story:
Sign up here:
http://bethb.net/storytellingsummit
Upcoming Community Q&A Call
If you're a member of our Fellowship of the Pen (and if you signed up for a course, webinar, or program, then you are!), then join us for our monthly Q&A zoom call Wednesday, Oct. 21st, 3pm.
This is a great opportunity to get hands-on support and gather in the company of like-minded writers.
Our Q&A call on Oct. 21st will have two focuses:
Your Author Branding Statement
Planning Your Novel (in advance of Nanowrimo).
Bring yours statement in for feedback. Or bring your story planning questions, shares, ahas, and check-ins.
To prepare, use the resources below:
Author Branding Statement Resources
Story Planning in advance of Nanowrimo Resources
♥
ABOUT BETH BARANY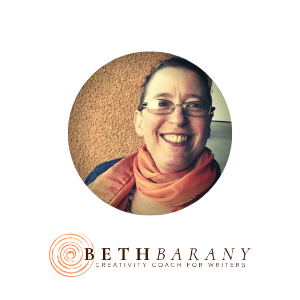 A Master NLP Practitioner and certified creativity coach for writers, Beth runs Barany School of Fiction, a full suite of courses designed to help genre fiction writers experience clarity and get writing, so they can revise and proudly publish their novels to the delight of their readers.
Based in Oakland, California, Beth Barany has presented at Ithra Center (King Abdulaziz Center for World Culture) in Dhahran, Saudi Arabia, at the Women's Fiction Festival in Matera, Italy, at Romance Writers of America National Conference, at Emerald City Conference in Seattle, Washington, at the San Francisco Writers Conference, and at San Francisco Bay Area chapters of SCBWI, CWC, and RWA.
Award-winning novelist, Beth Barany writes magical tales of romance, mystery, and adventure that empower women and girls to be the heroes of their own lives.
She is the award-winning author of Henrietta The Dragon Slayer, the acclaimed paranormal romance author of the Touchstone series, and is proud to release her newest novels, science fiction mysteries about Janey McCallister space station investigator.
The first book in the series, Into The Black, is a Page Turner Awards ebook Finalist. She has also written books for writers, including Plan Your Novel Like A Pro, co-written with her husband, thriller writer Ezra Barany.
***
Want to read more articles like this one Writer's Fun Zone? Subscribe here.