Why a Social Media Audit Might be a Good Thing by Willow Woodford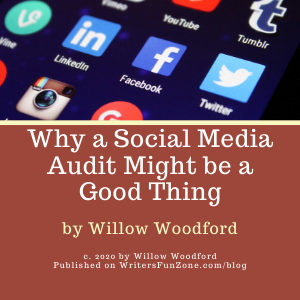 Let's welcome back monthly columnist Willow Woodford as she shares with us: "Why a Social Media Audit Might be a Good Thing." Enjoy!
***
The word audit elicits images of the IRS knocking at your door. Especially this time of year. But a social media audit is a very simple tool that will give you a snapshot of your social media presence and an understanding of how effective your social media presence is. It's also a great place to start when you're setting goals for your social media. 
A social media audit is a business tool that will help you optimize your social media presence and set goals to use it to further your business.

If you only use social media to stay in touch with friends and family, you don't need one.
What is a social media audit?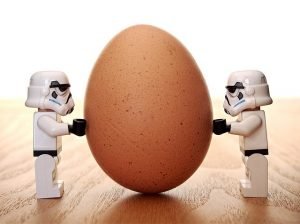 Social media is one of the main marketing channels authors use to connect to their readers, find new readers, and sell books.
A social media audit will take inventory of your current social media presence to tell you what's working and what needs to be tweaked. And, if it's not your first audit, it can show you where you've improved and where you've lost ground. Because social media is always a "push me-pull you" relationship. 
Do I need a social media audit? 
You may be wondering—Do I need a social media audit? 
If you are an author and can say yes to one or more of the following statements, then an audit may be useful to you. 
You have a newsletter list.

You have readers you regularly connect with on social media.

You have readers who have found you and/or your books through social media.

You would like to use social media to connect to your readers and/or sell books.
A social media audit can do a few things so you can reach your ultimate goal, which I'm assuming is to sell more books. It can:
Uncover unused and imposter accounts; 

Determine how each individual platform can serve your needs best; 

Determine the best goals for each platform. 
You can do it yourself or hire someone. Ultimately, it depends on how comfortable you are working with social media, how much time you have to devote to the project, and how deep you want to go. There is no right answer, just the answer that works for you. 
If you're going to hire someone, be sure to get recommendations. Check out reviews and ask them to clearly tell you what they'll do and what you can expect. If you want to give this a try for yourself here are some steps to take. 
Steps to do your own social media audit
Read up on social media audits, keeping in mind that many of the articles out there are directed at larger businesses. There are several websites that offer information on why and how. They offer templates too! Here are three I like. 

Sprout Social

(free template)

Hootsuite

(free template)

Neil Patel

(teaches you to make a template in google sheets)

Make a record on your template of each social media account you use for your author business.

Each one needs an individual record

.

Facebook (page and profile if you use it for business) 

Instagram 

Twitter 

Pinterest 

Youtube 

LinkedIn 

Look over each platform and consider how it looks to a new visitor. 

Is your handle easily discovered? 

Does your bio, profile picture, and cover photo show your brand and who you are? 

Do your links still work properly?

Evaluate your pinned posts. 

Are they conveying the message you want them to? 

If your pinned post is old but relevant, I suggest renewing it, so it doesn't look as if you've been absent to a new visitor. 

Note your top three to five posts and your worst 3-5 posts in terms of engagement. Important metrics include engagement, awareness, conversion, and audience. (You should be able to access this information within the platforms analytics tools. There are analytics tools you can subscribe to, but most of this can be done without them.) 

Which posts were seen a lot? 

Which ones got a lot of replies? 

If you included links, which ones got the most click throughs? 

Which posts bombed, and why?

Google your name and book titles and investigate what comes up. You might try doing this from a different computer, so the results aren't affected by your cache. Search social networks for your author name and book titles and see what people are saying about you. Note anything unexpected for later. 
In A Nutshell
That's a social media audit in a nutshell, allergy-free of course. It's a simple way to see how your social media is serving you and your business so you can use it most effectively to drive book sales.
In my next article I'll talk more about what to do with what you discover and use it to set goals that will build your author business. 
Remember… 
Don't forget to read up on social media audits and analytics on websites such as Hootsuite, Social Sprout, and Neil Patel to learn even more! 
***
Editor's Note: If you'd like to get your marketing started as a novelist, check out our foundational class, Branding for Novelists here: https://school.bethbarany.com/p/branding-for-novelists. Over 400 students have taken this course and found it useful!
***
ABOUT THE AUTHOR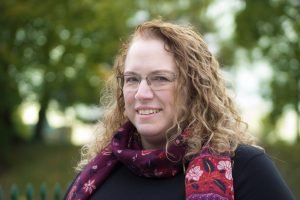 Willow Woodford lives in her imagination, because it's more interesting than the real world. When she isn't dreaming up new stories, she likes to cook, hike, and cuddle with her chihuahua. She reads voraciously, staying up far too late, and reading anywhere she can, including grocery lines, parking lots, and waiting rooms.
Her real-world counterpart, Ann Shannon, lives in New Jersey with her family and spends as much time as possible visiting her grandchildren on the west coast. 
Chat and follow Willow on Twitter: https://twitter.com/WillowWoodford.