New Year's Resolutions: If Not Now, When? by Nevada McPherson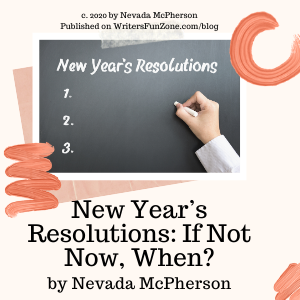 Let's welcome back monthly columnist Nevada McPherson as she shares with us "New Year's Resolutions: If Not Now, When?" Enjoy!
***
The To-Do List
If you're anything like me, you start each New Year with an ambitious to-do list and the expectation of checking off each task throughout the early part of the year.
Next thing you know, it's summer and yet another to-do list is made, that looks much like the earlier one, with many of those same tasks that just haven't been completed. And it goes on this way.
For me, many of these tasks have to do with writing and my writer's platform. Though I've worked on this in the past year, my actual accomplishments in some areas have fallen short of my goals.
One of my sticking points is my trepidation about putting myself out there in the biggest way possible.
I've taken initiative in some areas, but haven't started making my videos yet.
Oh, I've made some, only to harshly critique them, deem them not good enough, and then delete them, thinking I'll do some more later when conditions are perfect: when the lighting is just so, when my energy level is just right, after I get my hair done.
Worrying about these things has only resulted in one thing: zero videos completed!
My New Year's Resolutions
My resolution is to stop being so hyper-critical of myself and to embrace the imperfect, real and sincere.
I've likely mentioned this before in other posts, maybe in connection with my writing and drawing. I've done this with my work, so now time to do the same thing when it comes to—me!
I don't judge others as harshly as I tend to judge myself. (Sound familiar, anyone out there?) So now I'll just stop doing that and get on with it. Easier said than done. Maybe, but what's another new year without a challenge? I'll follow up on this in my next post!
NaNoWriMo Update
On a different note, one thing I'm happy about going into another new year is that the novel I started during NaNoWriMo is now over halfway finished.
Whereas I struggled last time to meet word count for NaNoWriMo 2018, there was no struggle this time; in fact, I finished a day early.
I know many people finish way before that but last year I went right up to the deadline trying to get 50,000 words.
The one I'm working on now is still very much a rough draft, but it is definitely getting there. I do believe I'm playing bigger and bolder in my writing, so time to do the same in all those other areas of my life.
Cheers to you this New Year in all your writing endeavors and resolutions!
If there's any area in your life where you want to "play big," you have my blessing, support and encouragement. I'm right there with you. Let's do it!
Happy writing–and larger living!
***
ABOUT THE AUTHOR
Originally from Georgia, Nevada McPherson lived in uptown New Orleans for many years and now lives with her husband Bill and rescue Chihuahua, Mitzi in Milledgeville, GA where she is a professor of Humanities at Georgia Military College. Nevada received a BA in English/ Creative Writing and an MFA in Screenwriting from Louisiana State University-Baton Rouge. She's written over a dozen feature-length screenplays, one short screenplay, a short play, short stories and two graphic novels, Uptowners and Piano Lessons. Queensgate, the sequel to Uptowners, is her third graphic novel. For more information, visit www.nevada-mcpherson.com.