A Historical Romance for Review: Another Ruth by Rita Kuhn
"Even after reading the first few pages, I was swept up in this enthralling and touching story. It conjured up images of another time and place so richly, so touchingly."

— Judy Massarano
Another Ruth by Rita J. Kuhn

It is Berlin, Germany in 1920.
From two seemingly irreconcilable worlds, Klara and Lev meet during a time of increasing social unrest and prejudice.
During their courtship, they must confront the political and racial struggles during this turbulent time.
Caught in Berlin's upheaval during the rise of National Socialism, Klara and Lev must ask themselves who they really are.
And, what is the value of love in a world gone mad?
Rita Kuhn wrote Another Ruth to pay tribute to her mother, Frieda Kuhn, a woman of unfailing courage and devotion.
A story based on true events, Rita's inspiration comes from family lore, old photographs, and family documents.
Rita Kuhn is also the author of Broken Glass. Broken Lives: A Jewish Girl's Survival Story in Berlin, 1933-1945, her memoir.
ABOUT RITA KUHN
Dr. Rita Jenny Kuhn was born on November 29, 1927 in Berlin, Germany, of Jewish parents, Fritz and Frieda Kuhn. Determined to complete her education, she emigrated to America after the war in 1948. Rita married in 1951 and had four children. She received her Master's degree in Classics at Cornell University in
1963.
After her divorce in 1965, Rita raised her four children as a single mother, while also attending graduate school and receiving her Doctorate in Comparative Literature at the University of California, Berkeley in 1984. She also spent twelve years as a tutor for disadvantaged children at Berkeley High School.
Since 1985, she has shared her story of survival with high school students throughout the San Francisco Bay Area. Rita is the proud grandmother of five grandchildren and lives in Berkeley, California.
Another Ruth Available for review!
"What, in a world gone mad, is the value of love?"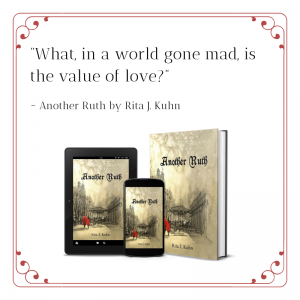 91-year old Rita Kuhn will tell you in her love story set during the Weimar Republic.
Be ready to be swept into a story of music, romance, biblical philosophy, and war.
More about Rita here: http://ritakuhn.com/.
Another Ruth is available as a Kindle here: https://books2read.com/AnotherRuth. And in print on Amazon here: https://www.amazon.com/Another-Ruth-Dr-Rita-Kuhn/dp/0999696521/.
---
More on Pinterest here
https://www.pinterest.com/bethbarany/1920-berlin-for-readers-historical-fiction/
---
If you're a book blogger or reviewer, you can get your own review copy.
Sign up in this form below:
Sign up here to request your review copy:
Questions? Email Beth@BethBarany.com.
Quotes from Another Ruth by Rita J. Kuhn