Telltale Signs Your Cover Designer Is a Professional: How to Spot a Professional Cover Designer by Mary Neighbour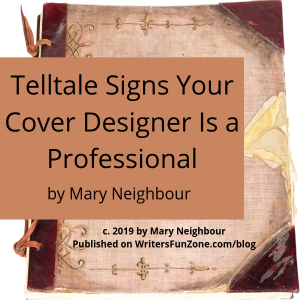 Please welcome back guest author Mary Neighbour as she shares with us "Telltale Signs Your Cover Designer Is a Professional: How to Spot a Professional Cover Designer." Enjoy!
***
What makes a graphical artist a professional cover designer? The bottom line is that he or she must know how to work creatively with imagery, colors, and typography to create a cover that will help you sell books. But that alone is not much help to equip you, the author, recognize a professional from an amateur. What should you look for in a freelancer?
Your Cover Designer
He or she may or may not hold an art degree, but he should have a body of work that will "speak" to you more eloquently than anything he can say. That's a good starting point, and the following list will also prepare you to discern who is professional and who is not.
He is a good communicator. Whether meeting you in person, on the phone, or via email, he welcomes all your questions and explains his concepts clearly. Following initial discussions, his artwork will be the proof that you and he are communicating well. 

He has a portfolio of prior work, related to your genre. He will also provide references.

He offers you more than one design concept to choose from—whether he executes your original idea or creates his own. 

Once a single concept is agreed upon, he is willing to produce more than one iteration of the composition; that is, you can tweak positioning, colors, fonts, or image properties. 

He limits the selection of typeface to one or two, and he recognizes the usefulness and flexibility of a font family. 

He'll use typefaces that he has licensed or are license-free.

He can explain to you the psychology and the attributes of color.

He demonstrates hierarchy in his designs and creatively uses the rule of thirds. (See

last week's blog

for definitions.)

He creates deliberate contrast and harmony with colors, fonts, and images. 

He has experience working with colors in RGB and CMYK, and knows how to translate one to the other, as needed.

His design for the front cover includes elements that can be carried over to the spine and back cover.

He will provide a physical printout (a proof) of the finished design. 

He knows how to work with a cover template from the printer, and he understands bleeds and color profiles.

He will discuss

copyright issues

with you. Not only do you both need to agree upon who will own the book's artwork, but if the designer has used copyrighted images, those also will need to be handled responsibly.

He or she understands that your book cover needs to be eye-catching, even as an online thumbnail.
Tip: In our digital age, your cover is sure to first be viewed on a screen. Once you have the design in digital form, shrink it to thumbnail size to test a cover's impact and durability. What gets lost? What isn't legible? Do the colors become muddy?
Your Relationship with Your Cover Designer 
In addition to the harmony of elements on the book cover, you'll want a relationship that is fun, rewarding, and respectful. Thoroughly vetting each candidate will also provide you the opportunity to assess the designer's compatibility with you. 
Recommended: Differences of opinion will be inevitable. When deciding whether to follow his or her advice or your own "gut feeling," pause to remember that everything operates in the service of selling the book. In these matters, you are the amateur; if you have hired a true professional, then why not listen to them?
Next week in this series: "Questions to Ask Your Cover Designer."
The following week: We'll introduce our series of blogs on "How to Spot a Professional Interior Book Designer."
***
ABOUT THE AUTHOR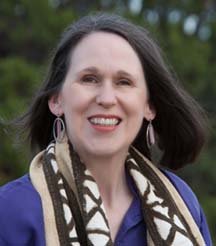 Some call Mary E. Neighbour a "book shepherd," though Mary wields a blue pencil far more expertly than a herding rod. For the past ten years, she and her husband have helped dozens of writers bring their manuscripts to the marketplace, through MediaNeighbours, their publishing services business.
Passionate about helping authors make their work shine in the world, with a combined professional expertise of over 50 years in editing and design, this family team is one you'll want to adopt as your guide through the challenging world of independent publishing.
Mary's other passion is learning about the history of slavery and how it impacts race relations today. She incorporated much of her research into her novel, Speak Right On: Conjuring the Slave Narrative of Dred Scott