A Different Kind of Crowdfunding for Authors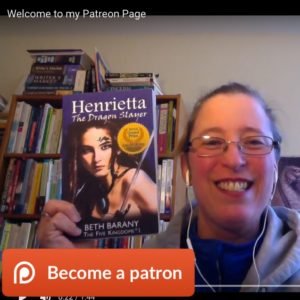 About 5 months ago, I started a Patreon account, a crowdfunding site support creatives.
What is Patreon, you ask?
Patreon helps creator achieve sustainable income. I use it to help support my mission dedicated to empower women and girls to be the hero of their own lives and jump into adventure with both feet.
Henrietta The Dragon Slayer series is a 3-book young adult adventure fantasy series. For readers ages 12 and up.
Here's a short welcome video I finally made this week:
Why Having a Patreon Account May Be Useful For Your Book Marketing
Lots of people know about the crowdfunding sites like Kickstarter and Indigogo. There's also sites like GoFundme.com — for all kinds of projects, and the new PubLaunch — specifically for writers and book publishers.
There's even regulation crowdfunding, a bit beyond me, but something worth investigating.
I like Patreon because you can start small, grow your confidence with your outreach, and customize your offerings to your patrons to save yourself time, so you can focus on your art.
Some things I've learned so far that may help you with your book marketing:
Setting the challenge of gaining supporters over time is a great way to put attention on book marketing.
Tying a book marketing campaign to a larger mission is gratifying and motivating.
Patreon is about community building, which is what we need to build our careers.
What questions do you have about doing crowdfunding?
Post them below. Maybe I can get some crowdfunding experts to chime in!