Sign up for a Special Free Webinar on Write Your Author Branding Statement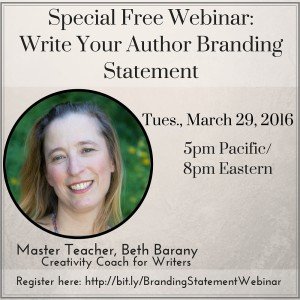 Word of mouth still sells more books than any other promotional tool out there.
If you just state what you write in a way that generates curiosity, then you can get more people engaged with what you write. Ultimately they will become your avid fans and book buyers.
Bonus: All on a zero budget!
What if you could you share what you write in one sentence and immediately know if your listener was curious, or not?
Because once a potential reader is curious and wants to know more, then you can ask for her email for your newsletter list (you have one, right?), or if appropriate, invite her to your online home of choice (blog, website, Facebook page, etc.)
So, how do you generate curiosity?
You learn to talk about your story in a compelling and interesting way. You create a Clear Message.
There are four ingredients to constructing this concise, one-sentence description of your brand.
The goal of this webinar is for you to design a statement that easily rolls of your tongue, and answers the questions we get at meetings, conferences, parties and even in the grocery store checkout line: "What do you write?"
In this webinar, we'll help you pin down the four ingredients to craft your Clear Message:
Your genre
Your audience
Your audience's desired result or experience: what they want
Your intended action upon your readers
This webinar is for:
Independent and traditionally published authors who want to get readers interested in their books.
Genre novelists, though you can adapt this material to your nonfiction books too. Resources we share will be tailored for genre novelists.
Soon-to-be-published novelists who want to prepare their author branding now.
In this special free webinar we will cover specifically how to craft your 1-sentence branding statement.
We'll Cover:
How to Draft This Four Part Statement
Live Demonstrations
And take your questions live!
---
WHEN
Date: Tuesday, March 29, 2016
Time: 5pm PT | 6pm MT | 7pm CT | 8pm ET
How: Special Free Webinar
If your time zone isn't listed, check out your time zone here.
I'm excited to share with you this information, hosted by me, Beth Barany, publisher of the Writer's Fun Zone and Creativity Coach and Master Teacher for dedicated genre novelists.
---

Click to tweet: Discover how to craft your author branding statement #freewebinar 3/29 5pm PT/8pm ET http://bit.ly/BrandingStatementWebinar
---
ABOUT OUR TEACHER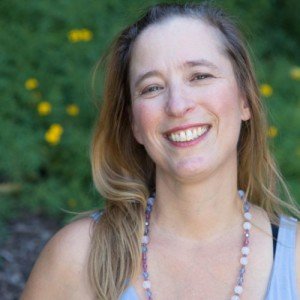 Beth Barany is an award-winning fantasy and romance novelist who has worked with over 100 authors to help them get their books written and published. Her first novel, a young adult adventure fantasy, Henrietta The Dragon Slayer (Book 1), won the 2012 Grand Prize Award of the California Indie Fiction contest. She's passionate about writing, story telling, and guiding authors to achieve their dreams. Her latest book for writers is Twitter for Authors: Social Media Book Marketing Strategies for Shy Writers.

SIGN UP HERE
Once you sign up, be sure to check your inbox (or "Promotions" tab) and click to confirm.