On the Secrets of Writing Fiction with Beth Barany + special guest, urban Fantasy author Irene Radford
In my weekly live #askaWritingCoach chat this week, Irene Radford and I chatted about secrets of writing fiction, inspiration, publishing, researching genealogy and more. We also gave away prizes. Irene gave away one of her recently re-published urban fantasies. (See below.) I gave away one digital copy of one of my books, Twitter for Authors, or A Cupcake Christmas. When you show up live and ask questions, you have a chance to win prizes!
***
ABOUT HARMONY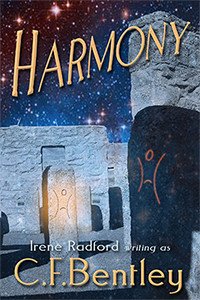 A spiritual journey, with a literary twist, in a space opera landscape.
Harmony, a new utopia for space-faring humans. Or is it a thinly disguised tyranny locked into a rigid caste system, slavery by another name?
Either way, xenophobic Harmony holds the secret to Badger Metal, a unique ceramic metal alloy that protects people from the radiation and hard vacuum of space.
Sissy grew up Worker Caste on the planet Harmony, her only hope for survival is to remain unnoticed, hiding her full array of seven caste marks. A devastating quake appears to be a major temper tantrum by the goddess Harmony. Sissy sings the planet, and her goddess back to benign quiet. This one act throws her into the role of High Priestess. Then she discovers she is the only one who can prevent her world from falling out of harmony into chaos.
Jake has reinvented himself from wild pilot, to spy for the Confederated Star Systems, to Sissy's bodyguard while he hunts for the precious formula for Badger Metal. Can he find it and protect Sissy from outraged priests who fear change more than death, before civil war, and invasion, bury them all?
Originally published by DAW (2008). Republished with a new cover.
Available at Bookview Cafe | Amazon | iTunes
---
ABOUT OUR GUEST
Irene Radford has been writing stories ever since she figured out what a pencil was for. A member of an endangered species—a native Oregonian who lives in Oregon—she and her husband make their home in Welches, Oregon where deer, bears, coyotes, hawks, owls, and woodpeckers feed regularly on their back deck.
A museum trained historian, Irene has spent many hours prowling pioneer cemeteries deepening her connections to the past. Raised in a military family she grew up all over the US and learned early on that books are friends that don't get left behind with a move. Her interests and reading range from ancient history, to spiritual meditations, to space stations, and a whole lot in between.
Mostly Irene writes fantasy and historical fantasy including the best-selling Dragon Nimbus Series. In other lifetimes she writes urban fantasy as P.R. Frost or Phyllis Ames, and space opera as C.F. Bentley. Later this year she ventures into Steampunk as someone else.
What are some Secrets of Writing Fiction?
Take a listen or a watch!