A Love Letter to Setting up my own Online School to Teach Fiction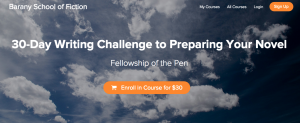 I am creating a school of fiction, my very own online school! It is called the Barany School of Fiction. I could not do this without the awesome support of Fedora, an online platform for building online schools. I don't know about you, but a good tool makes all the difference. So yes, I am gushing about this tool. You can check out the school I'm building here: school.bethbarany.com.
One of the features I like about this online school is the ability to share documents, PDFs, video, and text. I also like how I can integrate it with a newsletter service.
A new feature that I will be implementing soon is adding various levels to the coming-soon course, "30 day writing challenge to preparing your novel" course. This course is self-paced or self-guided. In June 2015, I will be offering the facilitated levels so people can have added support and community. Sign up here at the school if you'd like to be notified of the June course.
Another feature I like and have tested out is the discussion feature. Students can do the lesson and share their thoughts about it and help each other.
People have lifetime access to this course and any other I create on this platform. After enrolling, you have unlimited access to these courses for as long as you like – across any and all devices you own. That means you can take the time you need, doing this course in the bite-sized pieces I've created, even though I suggest you complete this particular course in 30 days or less.
Lastly I enjoy the flexibility of Fedora and plan to implement prizes and gifts when students reach each certain milestones. (I hope Fedora adds in some gamification and ways to do this!)
Because this is an article in praise of Fedora, I do want to give a shout out to Ankur and his tech team for all the help they give to us instructors and how quickly they respond to any tech issues and questions I have.
What is in this for you?
1) If you want to take a writing class, you can check out my Prepare Your Novel class and see if it's right for you.
2) If you're a writing teacher, perhaps you'd like to set up your own writing school with Fedora, or something like this.
***
ABOUT THE AUTHOR
Based in Oakland, California, Beth Barany is an award-winning novelist and creativity coach for writers. With her coaching, consulting, and teaching programs, she helps novelists write, publish and market their books.
Along with her husband, bestselling novelist and teacher, Ezra Barany, they run a yearly group coaching program that offers customized support, education, and real-world examples from working novelists.
Beth Barany offers a complimentary discovery session to authors curious about getting support from her. Be sure to sign up for that because appointments fill up fast. For more about Beth and her products and services and how to sign up for her discovery session, go to http://www.BethBarany.com.
In her free time, Beth enjoys practicing capoeira, traveling, playing with her cats, and watching movies with her husband.