Q&A With Fantasy Author, Sandra Schepis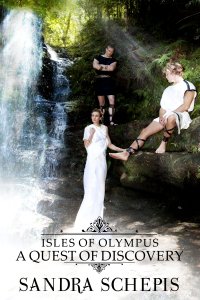 Please welcome fantasy author, Sandra Schepis. Enjoy her tips for writers.
***
What inspired your book? Tell us about it. (The book blurb!)
What inspired me to write the Isles of Olympus series? Originally I thought I would only create one book out of this tale, but it grew to be so much more, and so a trilogy was made. I had toiled with this story idea for about three years before actually sitting down and committing myself to writing it, I wanted something that my children would read, and something that I would enjoy as well as I was finding it hard to find books to capture my interests.
My love for Greek Mythology helped with my inspiration also. The more I read the old greek stories the more I want to learn and so when you have all this information I needed to find an outlet, and so the Isles of Olympus was created.
Book Blurb:
Life in the Isles of Olympus has become very different over the last ten years for the Ruler of Rulers. Ariella, the Queen of the Guardians has had her best friend Kyith taken from her, she lost her memories and past, and she walked away from those who need her the most.
But Ariella could not stay away forever, and so she must now find her way home, and put her life back together so that she can be the saviour of her lands and the people.
War is coming, and it promises to not only destroy the Guardians home and peaceful life but also the Olympians and mortal realms. It is time to put aside the distrust and differences and come together, it is time to join alliances with the Olympians and fight to save them all. But centuries of distrust does not make for great alliances.
Ariella must find her balance between the Olympians and the Guardians, she must delve into the histories of her life and before to find out what she is destined to become. But will it be enough to save them? Will she discover herself in time? Or will she fall and her lands be destroyed.
How long did this book take to write?
Once I made the decision to write it, I think all up the first installment took me 3 months, and this book took me 5 months. But it only took me longer because I had taken some breaks throughout the creating process, unlike with the first book (A Guardians Truth).
Tell us about your writing process. Do you write in the morning, or at night, afternoon? (I love writing in the midday!) 
I mostly write during the day while my kids are at school, but if I am really hooked on a certain part in a story I will continue to write during the evening after my children have gone to bed, and when that happens I can be up well past midnight, because I tend to lose track of time when I am writing. I like to sit and think about the world I am immersed in visualize it before writing about it, and sometimes at night I like to lay in bed in the dark and really see how I want the story to unfold so that when I sit down to write the next day, I know what direction I want the story to take.
Share with us some details about your writing location. We'd love to see a picture too!
Well Up until last week my writing location was having my desk and computer sitting at the end of my bed, but I have since moved it, and have now created a like office in my garage. I now have a little space just for writing and a separate space to rest and relax away from my computer.
What advice on marketing do you have to for authors struggling with marketing their novels?
This is a tough one, as I am still feeling my way through the process myself. With my first book, I paid for a blog tour, thinking this is all I need, but it's not that simple. Yes a paid professional blog tour and also a book blitz on your release day is essential. I think too generating a buzz on your own Facebook (author page), twitter or whatever social media you use helps to gain the momentum in the beginning. So really research your target audience, find out how to build their excitement, and start that process 4 weeks before you do your cover reveals on blogs. Then give yourself a time to create further buzz with your audience before you set out on the blog tours and release day blitzes. The main point is it's up to the indie writer to really promote their work, learn as much of the promotional process as you can, it will help to understand what you want and how to approach the publicity for your books. I find it is still a bit of a hit and miss process, but I hope soon I will know enough to make a successful go at it.
What advice on publishing do you have for beginning writers?
Again this is trial and error for me, but first off when you stumble across an offer to good to be true (This has happened to me) its best to get online and do a bit of research. I had a publishing company approach me telling me how great my book sounded, and for a small startup cost they could do this and that and make me famous, problem was, I gave it a second thought, in the midst of the whirlwind excitement, I took a moment and googled the company name and found some serious complaints against the "company" from writers that had plunged thousands of dollars to gain no reward.
I have submitted my manuscripts to reputable publishers, but I did not want to put my publishing on hold, so I went to the createspace.com site and again through much frustrations I learnt for myself how to self-publish, thankfully paperback is far easier than kindle, but I was lucky to have found a very lovely lady to help with the format conversions (for my first book) for the kindle set-up, and this time round I have learnt to do it for myself.
It's all a learning process, and one I think all writers should make themselves aware of. It can save you money; it can help to keep your vision intact, as sometimes you can find publishers may wish things to be changed. So my advice would be to make yourself aware, learn all you can and then implement it as much or as little as you like.
We sometimes get high school and college students reading our blog who want to be writers. What advice do you have for them for getting their books written, published and marketed?
Have an idea, toil with it, have fun with it, and explore where it can take you, I do not know how to give advice on this, as I write because I have this driving force in me. If you don't have that I don't know how to explain it, but I will give it a go. I find that if I don't write, then the story in me torments me, it builds and festers until I just have to spill it out on my computer. If you have that, then half the battle of writing your story is already won, I don't know if you can force a story out of someone, because I have never had too (Though I have only published one book with a second due out next month, I have been writing since I was a teen, which was a long time ago). I have not yet experienced writers block, I simply know when I feel I need to step back and rethink a direction. That is how it works for me.  Find how it works for you, and work with that flow. If you have the passion and the inspiration than never give up, but take in helpful advice, do not ever dismiss opinions that are make to better you, but never take in the criticism designed only to belittle you.
Is there anything else you'd like to share with us about writing fiction and growing your author career?
Well with regards to writing fiction, I think it's important to write something that you're interested in, find a subject that you would love to read about and work from there, it's easy to write about the things that interest you.
As for growing my author career, well I think that is going to happen naturally over time, when my name gets out there a bit more as I release my books, the same would be for many writers, so be patient, and always do it for the love of the story telling and not for the riches or recognition.
***
 ABOUT THE AUTHOR
Sandra Schepis is currently living in the Brisbane Bayside area of Queensland, Australia with her beautiful family.
She likes to spend a few hours of each day in front of my computer either writing or researching different elements of her stories and interests in Greek Mythology and history in general. Though she has spent years writing short stories, never before has she published any of her work.
Isles of Olympus is different, it is a complete work of towns and cities, landscapes, cultures and lives that she spent months creating, so that she could sit and enjoy the story that flowed from the details.
A Guardian's Truth the first of three books to come out of the Isles series, it was a special project designed ultimately for her children to read and enjoy, igniting their imaginations and inspiring their dreams.
with her love of landscape photography, she uses it to inspire some of her works.
Mythology weather Greek, Celtic, and some Nordic are keen interests that Sandra enjoy's researching; reading is a passion of hers when she is not writing.
Pre-order link for A Quest of Discovery on Kindle:
http://www.amazon.com/Isles-Olympus-Discovery-Sandra-Schepis-ebook/dp/B00Q8OTSQY/ref=sr_1_sc_1?ie=UTF8&qid=1417134466&sr=8-1-spell&keywords=Isleof+Olympus+A+Quest+of+Discovery