So You Wanna Write for Young Adults? by Tiffany Turpin Johnson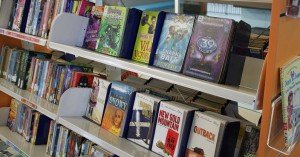 Welcome back to Tiffany Turpin Johnson, a kidlit writer and editor whose monthly column, Scribe Supplies: Writerly Tools for Success, brings you the best in all types of tools for professional writers. Today she shares resources so you can write for young adults.
***
Young adult fiction is still white-hot right now, which means the field is more competitive than ever. Whether you want to self-publish or go the traditional route, whether you're a newbie or a pro, if you're looking to get into the YA game, you'll need a little help. Below are some books to help you get started.
The Budget-Friendly Option: Writing for Young Adults by Sherry Garland (Writer's Digest Books, 1998)
Check out that publication date; it explains why this one's the budget-friendly option (find the book on Amazon for as little as a dollar). While Garland's book has some timeless, tried-and-true lessons for writing craft and the publishing process, be wary of any statements about the market, as the young adult sector has changed so drastically in the 15 years since this book was published. Just glance at the cover from time to time as you read, it'll remind you not to rely on this resource for timely information. You also won't find anything about digital publishing, which is such a huge part of the market these days. But particularly if you're just starting out in the writing game, have a limited budget, or are writing more for yourself than for publication, this book could be a useful resource for you.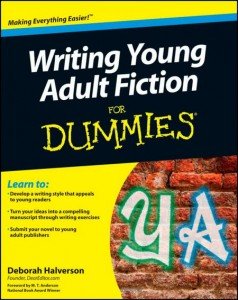 The Editor Option: Writing Young Adult Fiction for Dummies by Deborah Halverson & M.T. Anderson (Wiley Publishing, Inc., 2011)
This one's written from an editor's perspective and includes advice from such celebrated kidlit authors as Cynthia Leitich Smith and Jennifer Donnelly. The Dummies books are famously user-friendly, and this one's no exception. With its one-page Contents listing and section just for ten-point lists, this Dummies edition is comprehensive and easy to navigate, including information ranging from market overviews to book contracts. As suggested in the title, though, if you're an experienced writer, this one may be too remedial for you.
The Updated Option: Wild Ink: Success Secrets to Writing and Publishing in the Young Adult Market (2nd edition) by Victoria Hanley (Prufrock Press Inc., 2012)
From the blasé cover, you wouldn't know this is a resource for young adult writers, but don't let the cover fool you. Wild Ink comes from Prufrock Press Inc., a nonfiction publisher specializing in youth-oriented education (which explains Wild Ink's textbooky look). But there's lots to love here, including a chapter on self-publishing your work. And its recent publication date and second edition status means that it'll have plenty of trustworthy, updated market information. As a bonus, the book includes interviews with young adult authors at the end.
The Agent Option: Writing Great Books for Young Adults by Regina Brooks (Sourcebooks, Inc., 2009)
If you want to be traditionally published, the literary agent is your gateway, which means that learning about kidlit from an agent's perspective is a great way to go. In this one, experienced agent Brooks shares her decades of knowledge with aspiring young adult writers, and includes a chapter on getting constructive feedback during the revision process, so that your agent submissions are the best you can make them. There's not much market information here, but what's included is timeless, so don't worry about the book being a few years old. It's still a gem.
The (Other) Agent Option: Writing Irresistible Kidlit by Mary Kole (Writer's Digest Books, 2012)
Published just last year, literary agent Kole's kidlit resource is packed full of timely market information, and even includes information for middle grade fiction (often neglected in the publishing world, especially since the recent roaring success of young adult). She also includes a chapter on advanced kidlit techniques, which makes this book a great resource even for the most experienced of writers. Writer's Digest Books is definitely an authority on resources for writers, and they only publish the best of the best, so you can guarantee that Kole's book, being their latest YA craft book, will have a lot to offer.
The Bestseller's Option: Writing & Selling the YA Novel by K.L. Going (Writer's Digest Books, 2008)
K.L. Going is a well-known and award-winning young adult author, and her books have challenged the face of young adult fiction. Her creativity in this nonfiction resource makes it a quick, easy read full of everything Going has learned along the way. Its brevity and clever organization (chapters are titled according to high school class periods—Gym, Lunch, etc.) makes this one a favorite among class instructors. (It was actually the required textbook in my UCLA kidlit class.) There's even a chapter called Shop Class, which addresses the more taboo topics of kidlit, such as dealing with sex, profanity, drugs, and technology.
What resources have you used to craft your kidlit? Tell us in the comments!
***
Tiffany Turpin Johnson is a novelist represented by Annie Bomke Literary Agency, and operates TJ Writeography, a freelance writing and photography service. She regularly contributes to various blogs, and serves as Senior Editor for Entranced Publishing and Assistant Editor for Compose Literary Journal. Find her at www.fictiffous.com and on Twitter at @Fictiffous