Beth Barany on Social Media Book Marketing Secrets for Shy Writers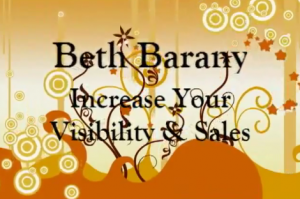 http://www.bethbarany.com, Book Sales Coach, Beth Barany works with fiction authors who are challenged by marketing and selling their books. She helps them find their own style of marketing and become successful, bestselling authors. Check out her site for upcoming classes, workshops, teleseminars, and sign up for her free course on getting writing on your book now.
Video produced by Barany Video Marketing.
Okay, okay, I know that this is just a morsel, a tidit… more videos coming soon!
Tell me what you think! And what you'd like to learn more about.
PS. Sign up here to get your very own copy of Confessions of Reluctant Marketer, free online report.